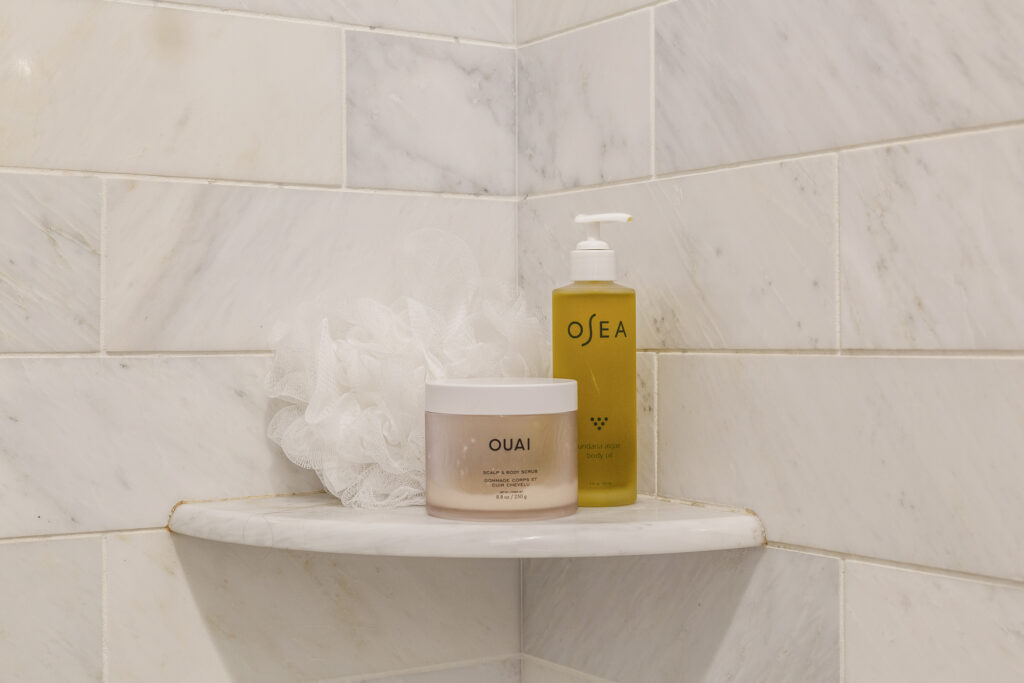 May I just begin by saying…. I had no idea my grout was that filthy!
Now- On to the subject: Body care. Skin care. Habitual deeds to take care of oneself in an overall manor. I don't know why, but I've always been a little bit of a skincare nut. Not just my face, though we know that's crazy important, but the skin on the rest of me, too. Growing up on a farm, I spent so much time in the sun, in tank tops, with sunscreen that was far too light for the circumstances. And, living that far out in the sticks, summer days were usually spent at the lake, which meant that summer nights were spent tending sunburns (some of the photos of myself from my teen years…. eesh). It wasn't until I was into my 20's that I stopped looking for the darkest tan on earth and started looking for a way to heal my skin and prevent any future damage whatsoever.
Once I did start looking at self-care when it came to my skin as preventative, healthy, and smart, curating a pretty standard collection of care products followed pretty easily.
Dove Deep Moisture Body Wash: This is my usually bath or shower go-to. I've been a Dove girl for as long as I can remember, as was my mother, and my grandmother. I never feel tight or dehydrated after using, and with no prevailing fragrance, I'm free to mix in a little of my Byredo Blanche or Le Labo Santal while still getting the moisture of Dove.
Ouai Scalp and Body Scrub: I originally grabbed this scrub to mix in with my shampoo, but one day, at the recommendation of Instagram, I decided to exfoliate my legs before shaving, and now? I'm addicted! I use this on my legs, underarms, or any part of me before I shave to be sure to exfoliate and get as smooth of a shave as possible. There's a light scent and a very light lather, but I'm never smoother than I am afterwards.
Osea Undaria Algae Body Oil: It's been very recently that I've come around to using oils. I've always been under the impression that oil would make you, you know… oily. Apparently this isn't the case. Now, I'm one to oil my hair pre- and post-wash, use a cleansing oil on my face (hello, Clique pre-cleanse), and slather on this gorgeous oil post-shower and post-shave. Now, it is a little thicker of a formula, so you need to be damp when applying, but I've never been softer. There is a scent that'll stick around until it absorbs, but the sheen and feel is worth it.
Osea Body Brush: I started dry brushing a few years ago after a surgery, and have continued ever since. I usually wait until I'm about to turn on the shower or run bath water and brush while standing in the shower or tub, just so any exfoliated skin doesn't land in the floor. Maybe it's a placebo effect, but one of the benefits of dry brushing is that it's easier to sweat and detox, and I swear I sweat easier on my body than I used to (I've always been a forehead/upper lip sweater). Add in the manual exfoliation, and my skin definitely looks brighter.
A Pouf: I remember being in middle school when the body pouf campaign started hitting TV commercials, and all of a sudden, people everywhere were swapping washrags for these netted mesh things that made soooo much more lather than before. I'm a fan!
Nature's Valley Hair, Skin & Nails: I added in this supplement a few years ago, and while I'm not sure it has anything to do with my hair, skin, or nail health, I'm also not sure that it doesn't… So, for the $14 every 6 weeks, I'll keep going.
Water: My goodness, please drink water. I have to take in a gallon a day or I feel parched, and this is coming from a girl who drank soda like it was going out of style until my early 20's. I don't know that I'd ever just drink a bottle of water. Now, I have a 24 oz water bottle that goes everywhere with me and gets refilled at least 5 or 6 times a day.
** this post is not sponsored in any way. all thoughts and opinions are my own **
** photo by Don Lehman **