Truth be told, the man and I had plans to take off on Monday and head back to our favorite place to celebrate 15 years together. Knowing that California is so hard hit at the moment with Coronavirus lockdown, and knowing that I'm this close to going over budget on our renovation, we decided to stay home instead. I won't lie that I'm missing Southern California so, so badly- our annual jaunt to visit friends in LA, then head inland just isn't enough, and there's something that draws us to the Saguaro cacti and Yucca trees of the desert. Such a fun place.
And such a sweet city! I've never been somewhere that the locals were so welcoming. I always think about Rita, the owner at Grand Central Palm Springs. We had one breakfast in her restaurant in 2018, and every return trip, she's greeted us with a smile and literal open arms. Something about the sunshine…. It just makes the residents there happy.
Eat.
Sandfish Sushi and Whiskey: Situated just north of Old Las Palmas neighborhood sits Sandfish. With a west-facing patio overlooking the new Arrive Hotel and the gorgeous mountains, I fight myself on telling you to sit outside, when I know that inside, an extensive whiskey collection and creative bartenders and sushi chefs are in full view. Try the Baby Langustine roll and the spicy tuna tostada. If you're feeling frisky, order Chef's tasting menu.
Workshop Kitchen + Bar: (pictured above) I'd have to go back and look, but I'm almost certain that we've eaten at Workshop every time we've visited Palm Springs. A few blocks South of Sandfish, Workshop is there waiting to impress you with the kindness of it's staff and the simple yet creative menu. Items that scream "comfort food" like a burger come with surprising details, like a blend of ground beef and oxtail. While there's patio and sidewalk seating, I prefer indoors here, where a huge communal table and darkened quiet booths are made out of concrete and give off a cool and private vibe.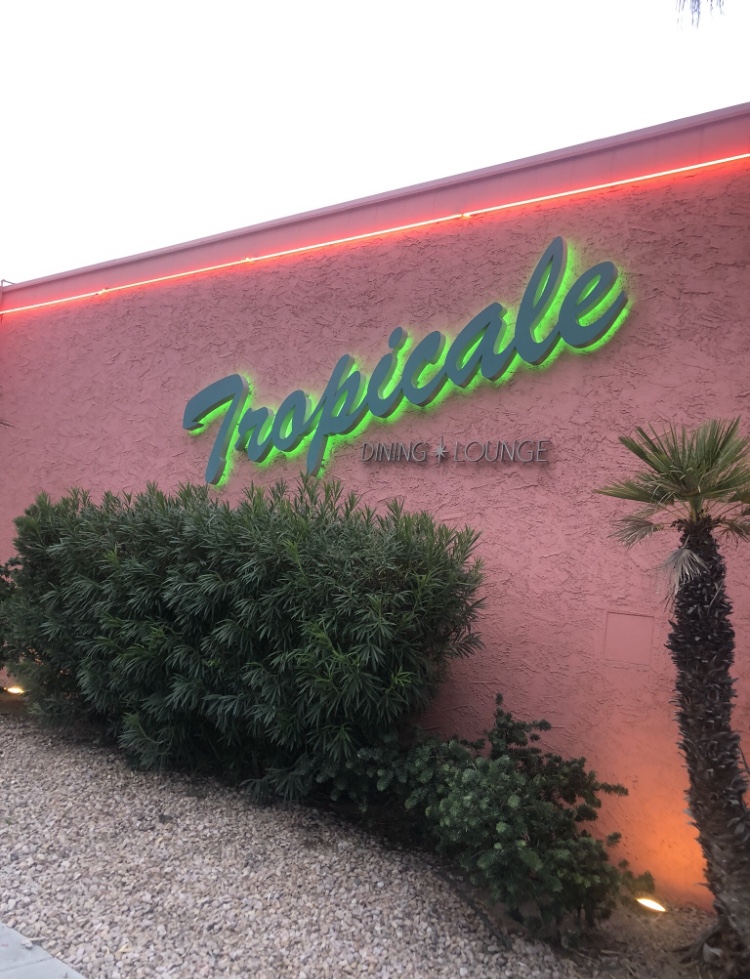 Tropicale: (pictured above) Oh, man. Hands down, our favorite spot in town, the Tropicale is what you expect in Palm Springs. A mix of ages, sexes, live music, and cocktails exploding with color and garnishes live here. Pink walls and neon lights, friendly guests (we've never once eaten here that we didn't end up in a conversation with the people at the next table), and INCREDIBLE food! My go-to meal is the Miso glazed salmon and black rice bowl, while Bryan is still going on about a Tonkatsu style spicy pork he ate here a few years ago. Go. Dress in the most fun outfit you own. Try the salmon. (This is also where Bryan and I celebrated our engagement!)
Melvyn's: This spot is as old-school Southern California as it gets. Piano music, tinkling glassware. The servers are in tuxedos and will set your cherries jubilee on fire table side. While more hip steak spots (like Mr. Lyon's) exist, I love Melvyn's for it's quiet elegance, aspragus and hollandaise and cherries jubilee.
Townie Bagels: Nothing fancy here, but this is our go-to breakfast spot. Depending on mood, I'll grab an everything bagel with chive cream cheese and onions, or a salted bagel with plain cream cheese and a schmear of Nutella. We stop here on mornings we're heading out for a hike, as it's super close to Tahquitz Canyon and the Tramway/Mount San Jacinto, but there are daily regulars who order a more leisurely meal, like the Lox Breakfast Deluxe, which is on my to try list.
Grand Central: Rita's restaurant! Grand Central is located right in downtown Palm Springs on La Plaza. Cozy, familiar, with breakfast beers, great mimosas and coffee, and orange ricotta pancakes (my favorite). I wouldn't call Grand Central a diner, but it has that feel of "let's grab a bite." Look for the owner to introduce herself and sit down with you for a bit, and be on the lookout for pups- the patio is dog friendly!
Stay.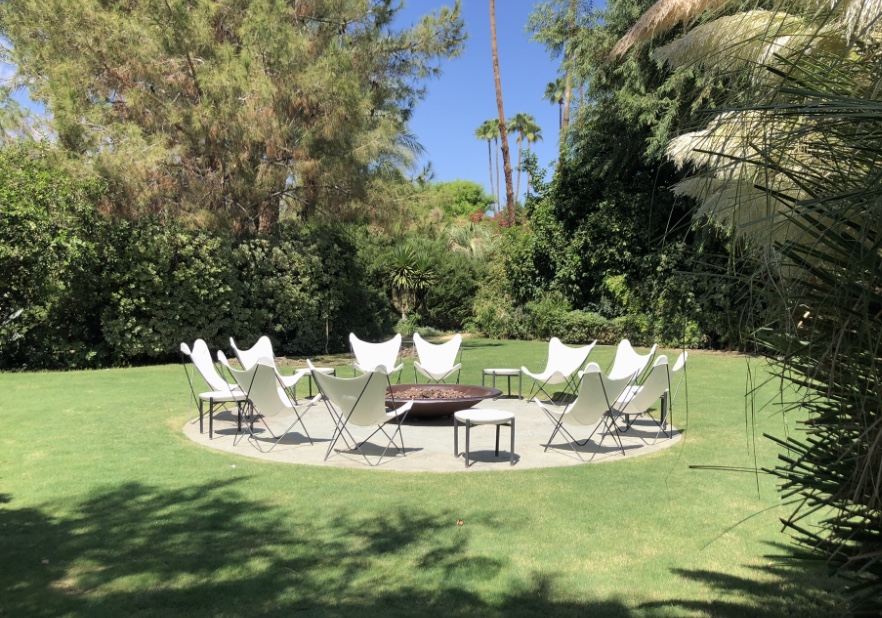 The Parker Palm Springs: (fire pit pictured above) It may be the most expensive place in town, but the Parker has unparalleled customer service, style, and privacy. The grounds stretch over 13 acres and resemble a hedge maze. Rooms can be as small as a queen bed in the main house or guests can rent Gene Autry's former home for an appropriate fee. We prefer the Hammock King rooms, which have private gardens with 2-person hammocks out back. Three pools, numerous restaurants, and hidden fire pits, bocce courts, and giant chess await! Did I mention is was designed by Jonathan Adler? Expect very cool style.
The Ingleside Inn: Home to Melvyn's, the Ingleside Inn is one of the famed "Old Palm Springs" estates. If you're craving history, I'd recommend this little place in a heartbeat. Feeling like a family-run bed and breakfast, with only 30 rooms, doors to each guest suite open to the circular drive and front pool (super private, surrounded by greenery). It's a much more budget-friendly stay than many of the other resorts it's age, but you'd never know it- the staff are super friendly, will communicate via text throughout your stay, and the rooms feel like a guest house at some movie star's hideout.
La Serena Villas: Next to the Historic Tennis Club, La Serena Villas is exactly what it sounds like. 19 individual villas offer style and size no matter how many you're traveling with. With private, enclosed courtyards, outdoor clawfoot soaking tubs, and some villas with private pools, this may be the spot to go if you truly want to be away from everything. Breakfast is delivered door side each morning (and is included in price), and the Whispers Spa gets great reviews. The hotel restaurant, Azucar, opens to the pool, so the nightly breeze and white-noise splishing of the water creates a happy, dreamy backdrop.
Play.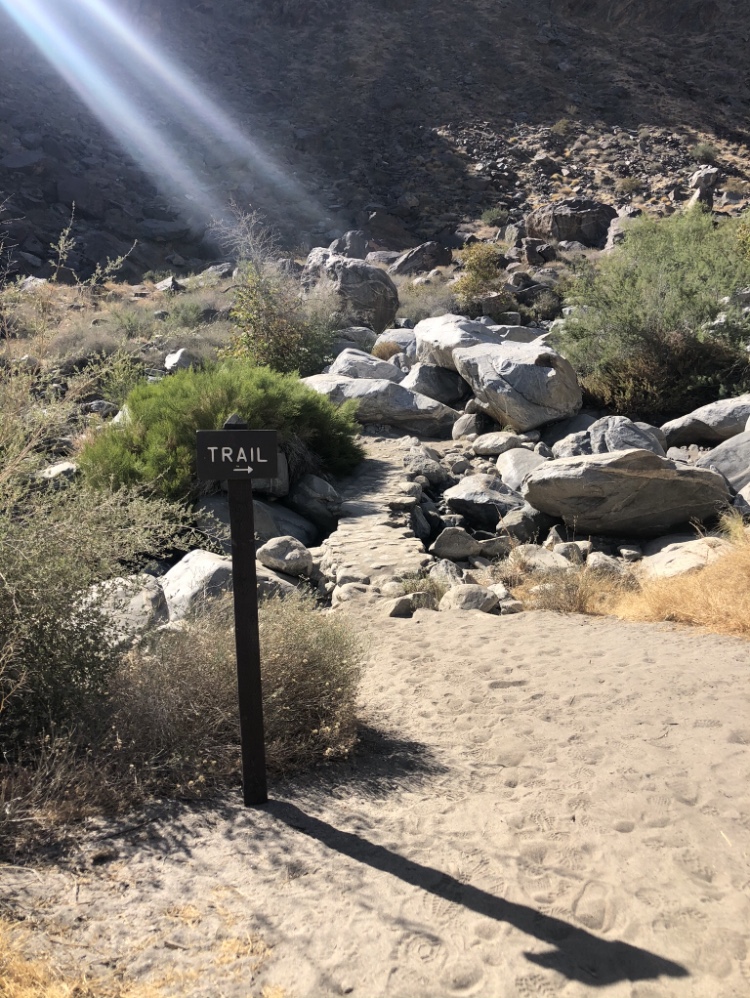 Hike Tahquitz Canyon: (above) Pronounced TAH-quish. The canyon provides a great couple-hour escape from the day. Elevation changes a bit, and only proved difficult for us last season, while hiking with masks on, in 110 degree heat, during wildfires. The 2ish-mile trek in and back through the Aqua Caliente ends at a 60-foot waterfall- a great way to spend the morning!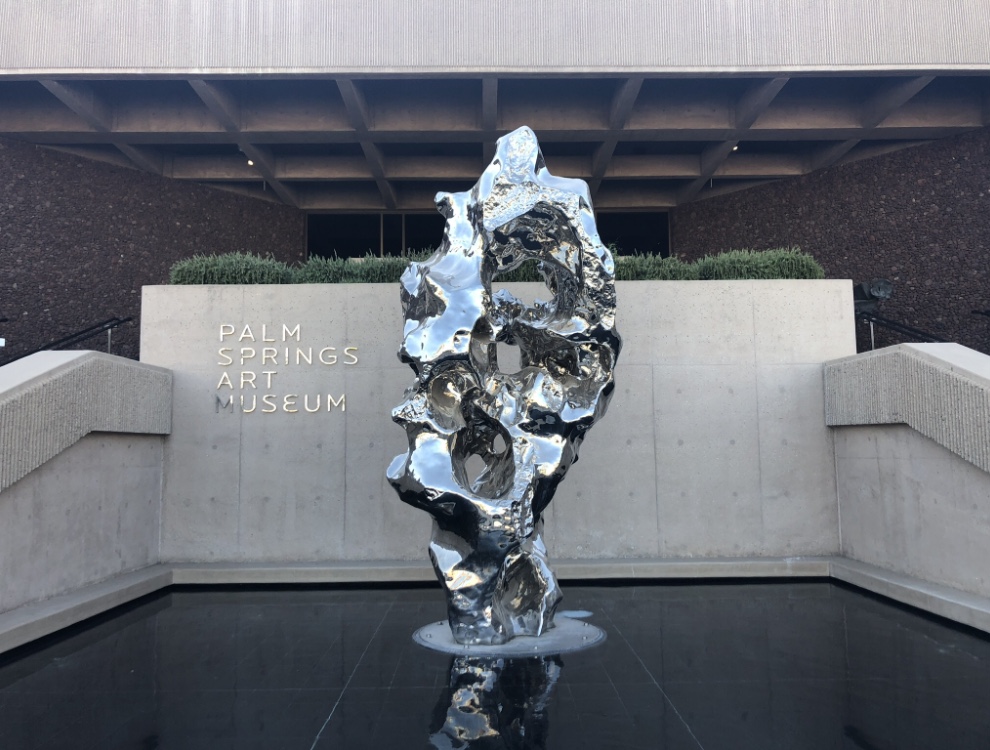 Palm Springs Art Museum: Tucked up against the mountains and within walking distance to downtown Palm Springs, the art museum is a fun stop. A giant Dale Chihuly blown glass piece bounces light all over the interior, while the lower level grants access to the sculpture garden. If you're a Louisville local, check your Speed membership- some levels offer reciprocating membership to the PSAM.
The Palm Spring Arial Tramway: Hands down, this will be the most touristy thing I ever recommend, but I highly recommend it! The world's largest rotating tram carries guests two and a half miles up the mountains to the top of Mount San Jacinto. You leave the desert's 100+ degree temps to be dropped on top of the mountain amongst green forestry, waking paths, and temps that have dropped an easy 30 degrees. It's very cool to watch the environment change as you travel upward. For those that are avid hikers, numerous trails up and back exist. A word of warning, though- the base of the tram is still pretty far up the mountain. Be sure you have 4 wheel drive.
The Palm farms: Last year, B and I decided to take the drive out to Salton Sea, and on the way, drove down 111 through expansive date farms. I was not aware of how they grew on Palm trees (with protective little netting wrapped around the heavy dates before harvest), and we had more fun passing these gorgeous farms than we did at the Salton Sea. I highly recommend the drive, just to be overwhelmed by the crazy amount of palms!
The Perfect Day.
I'd wake up and make my way to Townie for an onion bagel before hiking Tahquitz Canyon. After the 2 or 3 hour hike, I'd head back to the Parker for an afternoon of laying by the pool reading, and grabbing tacos from the Lemonade Stand. After I was sufficiently sunned, I'd shower and change into something bright and fabulous for dinner at the Tropicale. I'd of course have the salmon, then grab B and wander through downtown for a progressive post-dinner round of cocktails. Parker's turndown service would end the day.
** this post is not sponsored in any way. all thoughts and opinions are my own **