When Bryan and I began dating, he was half of a package deal. He and his pup, Logan, had been together for the better part of a year. Even in his profile photo on MySpace (it was the early 2000s. Let it go.), as he grinned his handsome grin, there was a sliver of Logan peeping out over his right shoulder. They came as a set, like salt and pepper. The blond, bearded Clevelander and the standard dog dog.
The first November after we were a couple, Kent came along. A floppy, chubby beagle with a mind of his own and an attitude larger than his ears. For a few weeks, his wild beagle tendencies made us slightly insane, but for almost 10 years, the four of us were your typical family unit. Mother, Father, and 2 kids.
It's so hard to believe that 4 years have passed since we've had a dog in our home. Logan left us in 2015 after a bout with cancer. Kent went in early 2017 when he somehow dislocated part of his back. I vowed then and there that I couldn't have another dog. I felt like I had buried my children and to adopt another pup felt like I was trying to hurry up and have another baby. It hurt. It hurt so very badly to let go of two little guys when I couldn't tell them that they'd be okay, and I didn't want to go through it again. I didn't think I could.
Bryan and I waffled for a bit. There was a moment at the end of 2018 when we stopped on the way to a Purdue game to see some almost-ready-to-be-adopted Golden Retrievers that a colleague of mine was raising, and I wanted to bring home a chubby little guy with an orange collar that was as dark auburn as his dad (who his humans affectionately referred to as "Brown Dog." We left and drove the rest of the way to the game where I talked myself out of the little guy and I think Bryan's heart broke. He was so ready to have another furry son.
I think he resigned after that trip that I just wasn't ready. I didn't want another dog. They live such short lives, which to me only meant that I'd have to watch one grow old again, have health issues. I'd have to try and comfort them in a language they didn't understand, and, eventually, I'd be on my knees in a vet's office crying my heart out as I watched them slip away… I just couldn't do it.
So, here we are, four years later.
I'm still scared. I still know that, eventually, it'll hurt. I know that eventually, I'll experience loss again, and now… Now, I know that eventually, I'll let two furry boys go, because now, we have two furry boys.
I perused the Humane Society, local rescues, talked to breeders. Finally, I spotted an ad on Craigslist for Goldendoodle puppies just a half hour or so away. Standard sized, with a bunch of boys in the litter. Bryan and I took a Sunday afternoon to drive out to a gorgeous farm just east of the city, and met the remaining boys in the litter. Tiny, shaggy pups wandered over to us as we sat on these folks' living room floor, sniffed us hello, and promptly fell asleep. I was in love.
Two weeks later, two solid black boys showed up at our door, slightly scared and ever so handsome. We took a while to decide on names, waiting for their personalities to come out, but finally, they're home.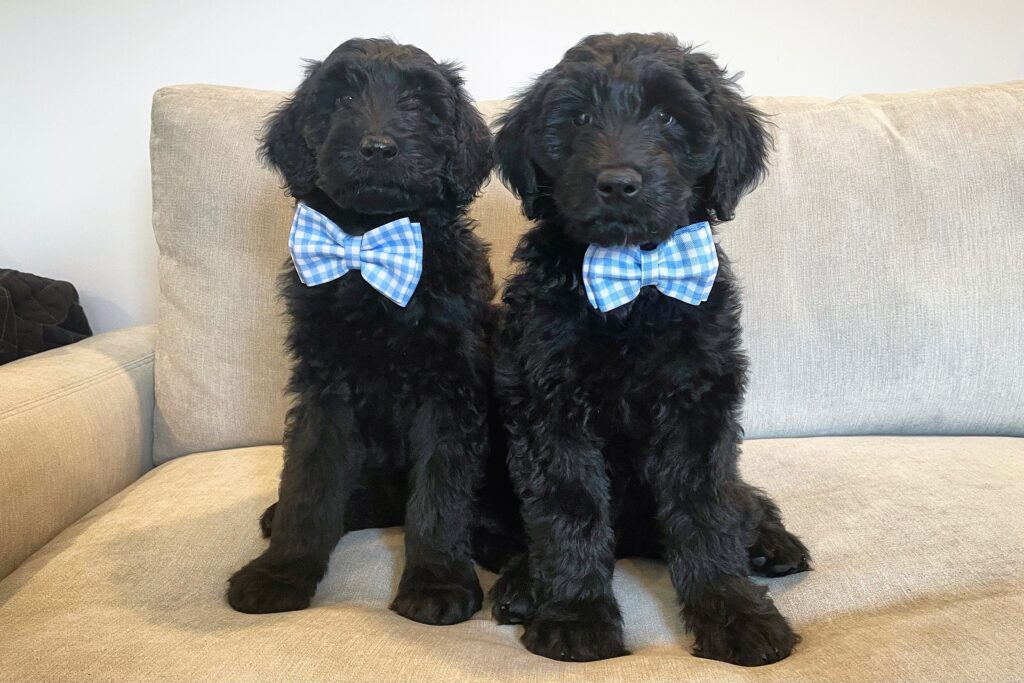 Funny that on Mother's Day, I received a text from a friend that they fit in so well here that they were meant to be our dogs. I think she's right. These guys are quiet, they're pretty calm. Already 90% house trained and they know the word "sit" as well as their names. Two weeks in, they made their way out of the crate and into our bed at night, and they sleep through the night, waking us up by stretching and cuddling. On more than one occasion, I've held them and cried because I'm so happy. We're complete again.
I know we have a long haul ahead of us. Eventually, I'm sure, there will be a freakout over muddy paws on a duvet and a panic over someone eating something they shouldn't (there was once an instance of Kent and a Costco-sized bag of trail mix). We still need to learn the yard boundaries, and meet Grandma, and take road trips home to Cleveland. But, we also will learn that at night, I'll sing them to sleep, and that when they're older, Sunday morning scoop time comes with a scrambled egg.
So, my friends, introducing Sid and Oscar, named, aptly, for the Cookie Monster and Oscar the Grouch. They're very pleased to meet you.