Remember where we came from?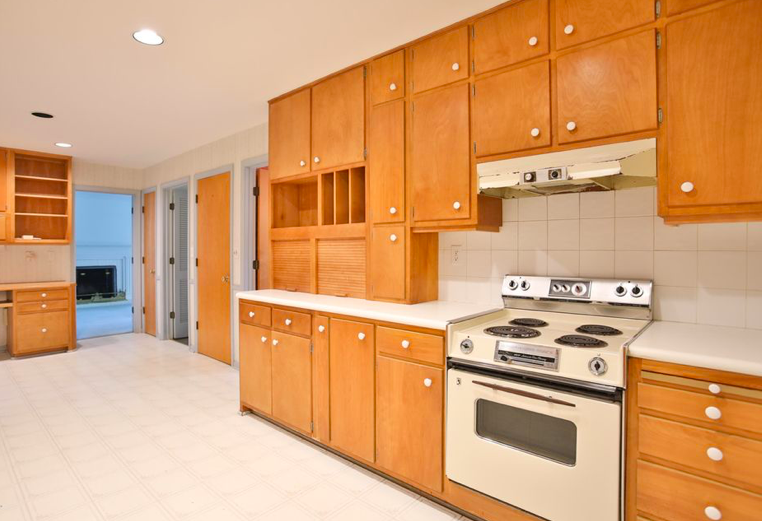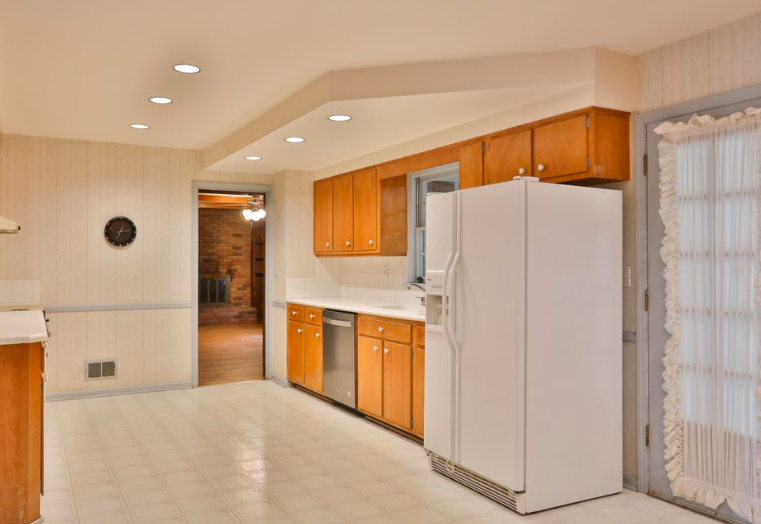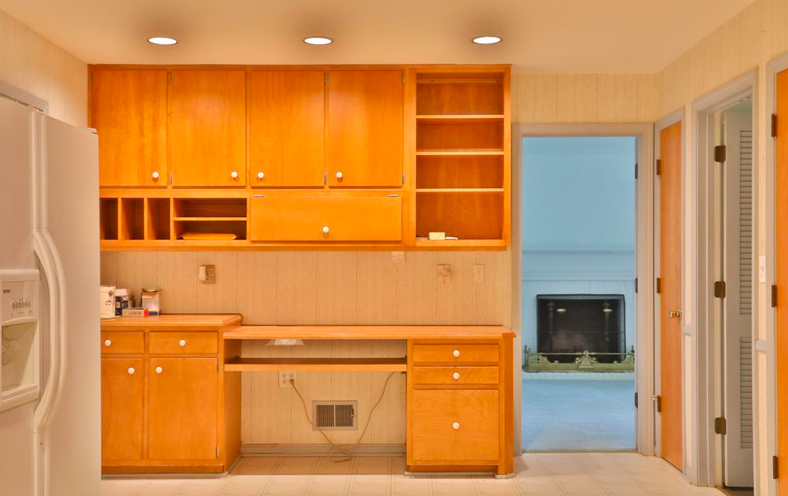 For so many months, it's seemed like Bryan and I (and now Oscar and Sid) have been just trudging through life in a house that's just not 100% done anywhere. The dining room still needs curtains (they're going in today, actually!), I'm waiting for a table to arrive for the powder room, I still need to make chair and window treatment decisions in the living room, etc…. But friends, as of last week, the kitchen, I'm happy to say, is done.
Without me waxing further….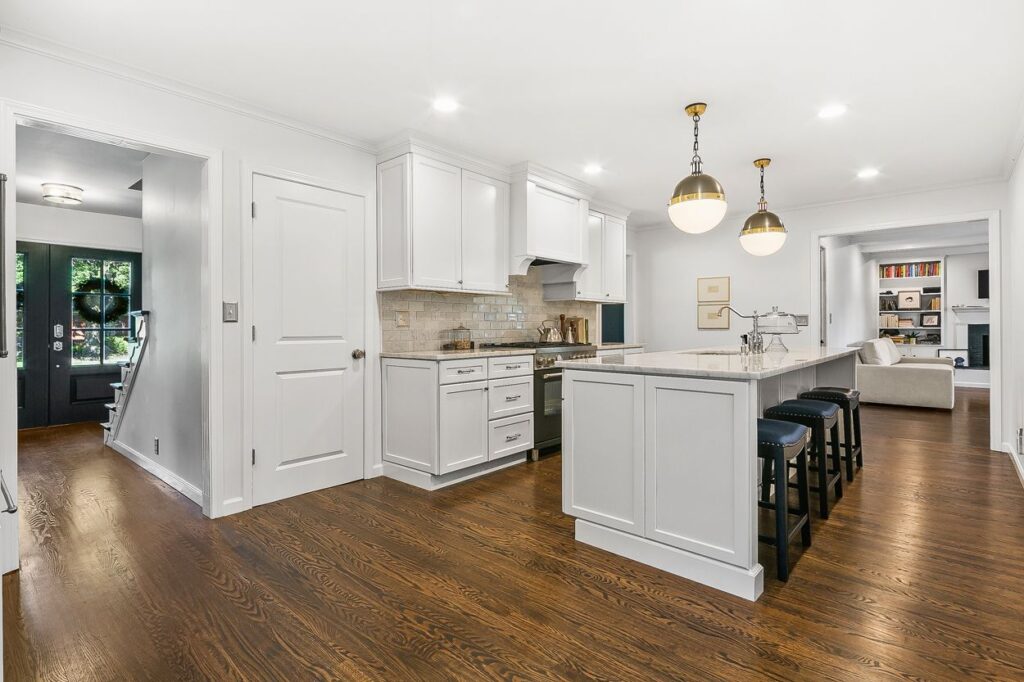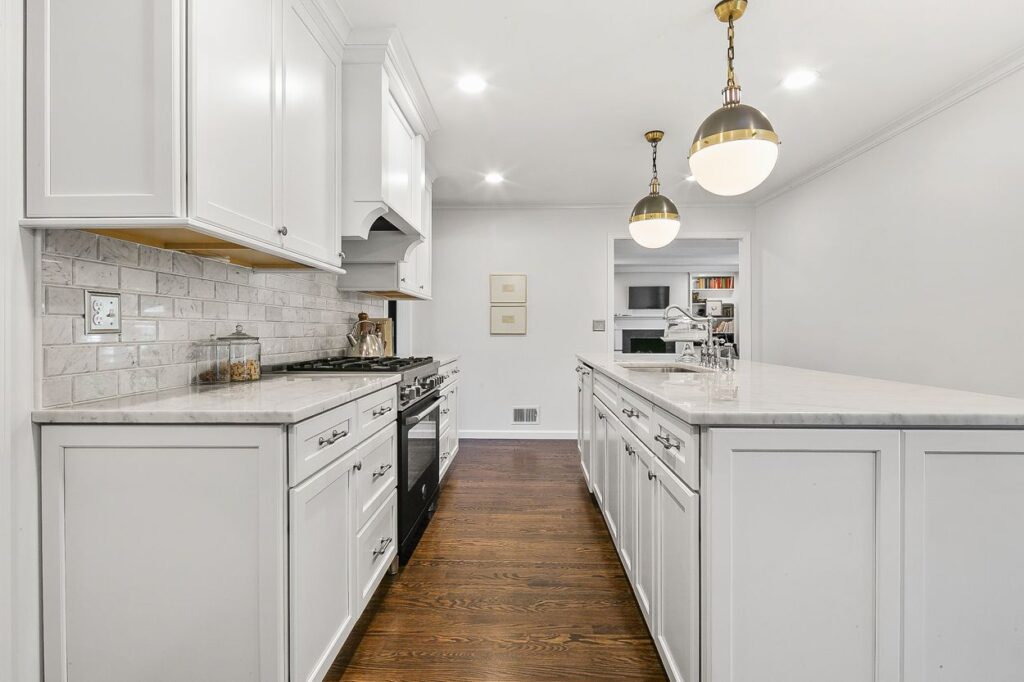 You'll notice a lot of similarities between this kitchen and the one at our former home. The cabinetry wood and color is the same (Maple in Dove from Kraftmaid), though we went with a slightly different door style. We stuck with our gut and stayed with Carrara marble counters and marble subway tile (more on that in a minute). We knew we wanted to stick with a huge undercount stainless sink, and so many of the accessories at the old house- my stack of often used cookbooks, Mamaw's Italian Creme Cake recipe- remain here.
From the beginning, Bryan was pulling for us to open the door to the den as wide as possible and add an island. The layout in here was an odd one. Without an island, we'd have a galley kitchen with too much space in between cabinets to be truly functional (especially for this five-foot-two gal), and if we added an island between two walls of cabinets, the island would have to be super narrow, so wouldn't serve a real purpose. In the end, after many, many revisions, we landed here- our cooking space on the wall that backs to the dining room, and a 38″ deep island that has now hosted many meals.
Speaking of the cooking wall… Can we talk about this stove?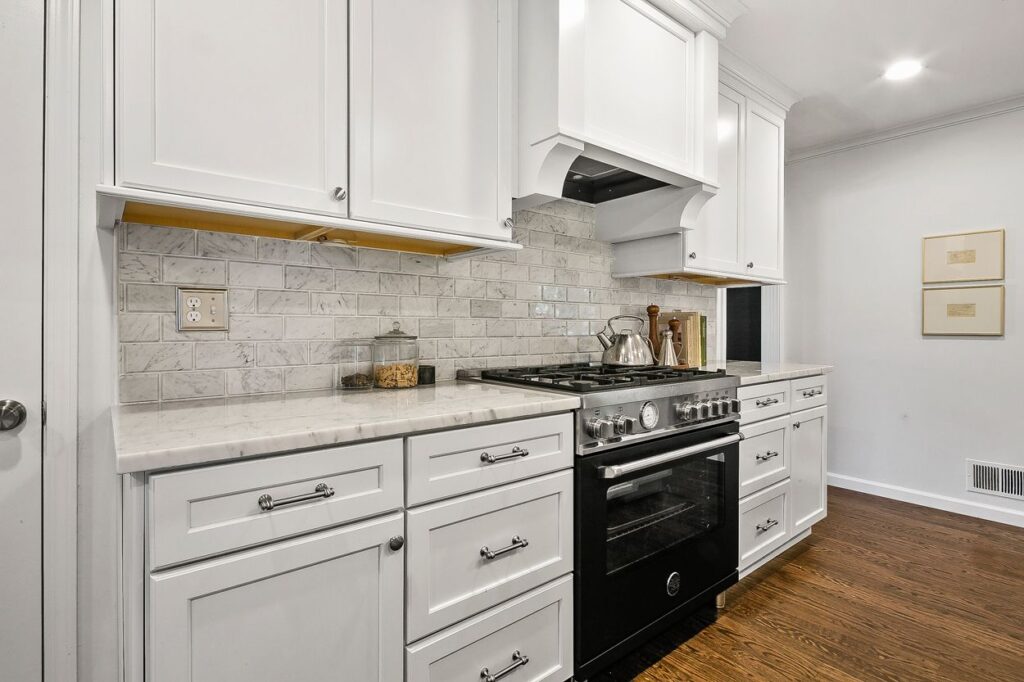 I knew that without my black and white marble floors, I wanted some sort of a showpiece in here, and it came in the form of this 36″ matte black Bertazzoni dual fuel range. I joked that I'd have loved to have a La Cornue in here- they're so lovely and glossy and perfect- but being an Italian woman, owning a French stove just seemed wrong, ha. This bad boy is a pleasure to cook on. The analog temperature gauge is interesting to keep an eye on for even temps, and finally- finally!- having a gas cooktop, while taking some getting used to, has proven to be so much more fun and efficient to cook on than my old electric range.
Since this is the only wall with an opportunity for backsplash, I wanted to stay rather safe (marble subway tile), but wanted something that could invite people to reach out and touch, and something to be a slight notch above basic. We found this gorgeous bevelled subway at The Tile Shop. When it was being installed, I had a moment of panic that I'd made the wrong decision- the depth of the tile meant a shadow on the tile below that I wasn't 100% ready for, but once the grout went in and the light from the hood and the under cabinet lights brightened things up, it really did look perfect, and everyone reaches out to touch it.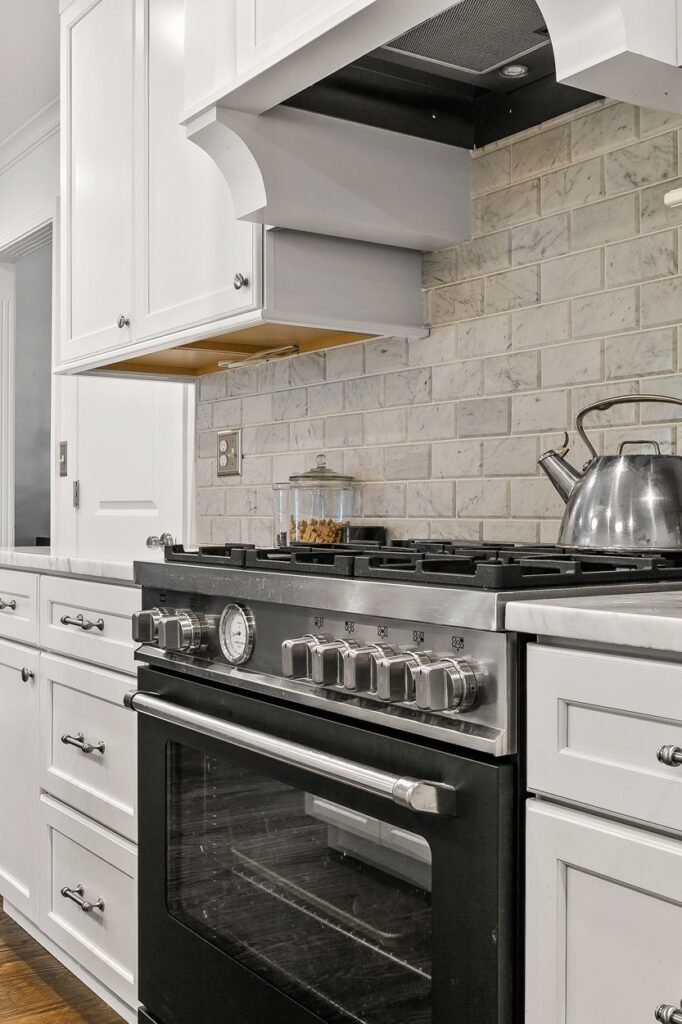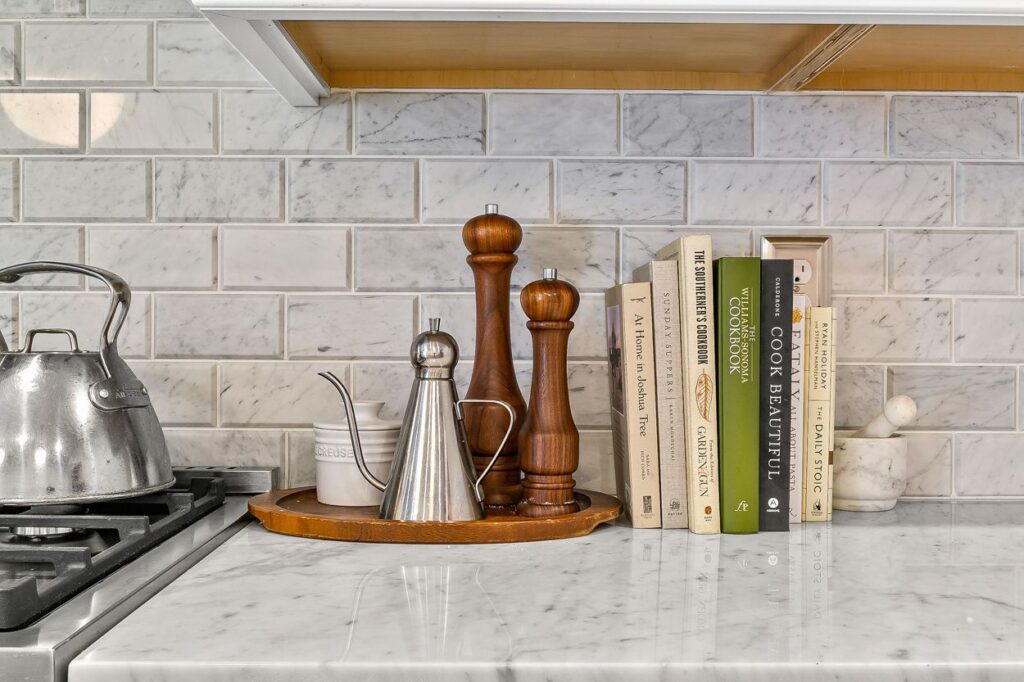 The fridge wall.
I knew that in removing the small pantry here and shifting the opening to the living room, I'd be left a) without food storage and b) with the opportunity to add a huge pantry wall. After seeing Erin Kestenbaum's reveal for the One Room Challenge in Fall of 2019, and knowing that our local GE plant had picked up the Fisher and Paykel brand, we decided, too, do move forward with a true counter-depth fridge/freezer that could be seamlessly hidden in a wall of cabinet fronts. While the fridge isn't particularly deep, I think we have adequate storage here, and I love- LOVE- the fact that this whole wall is so smooth and simple. The best part, however, is the hidden coffee bar.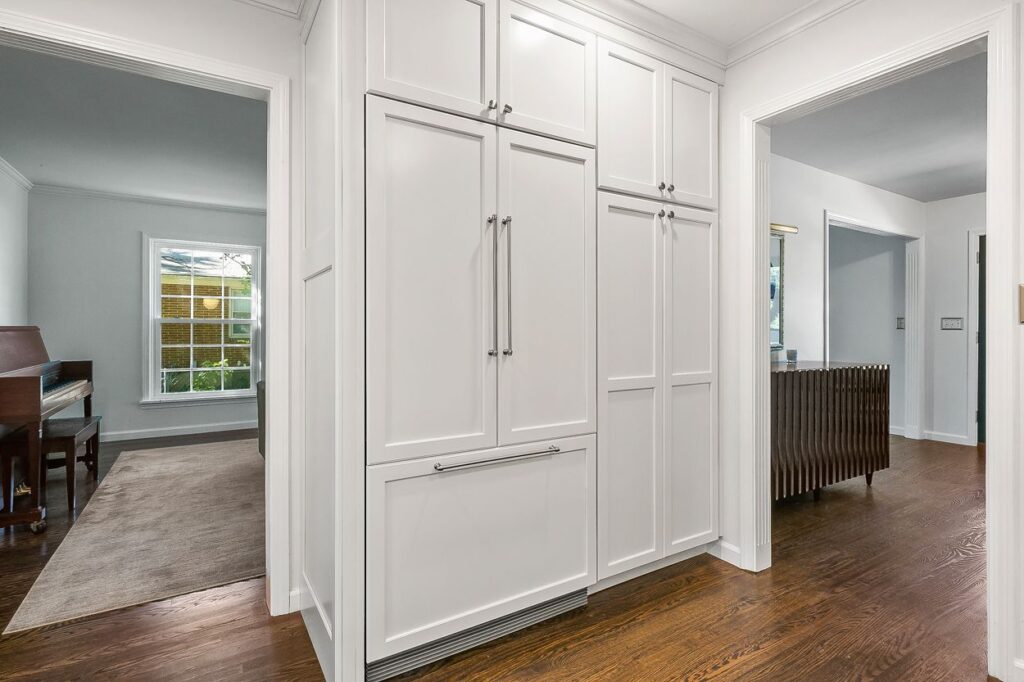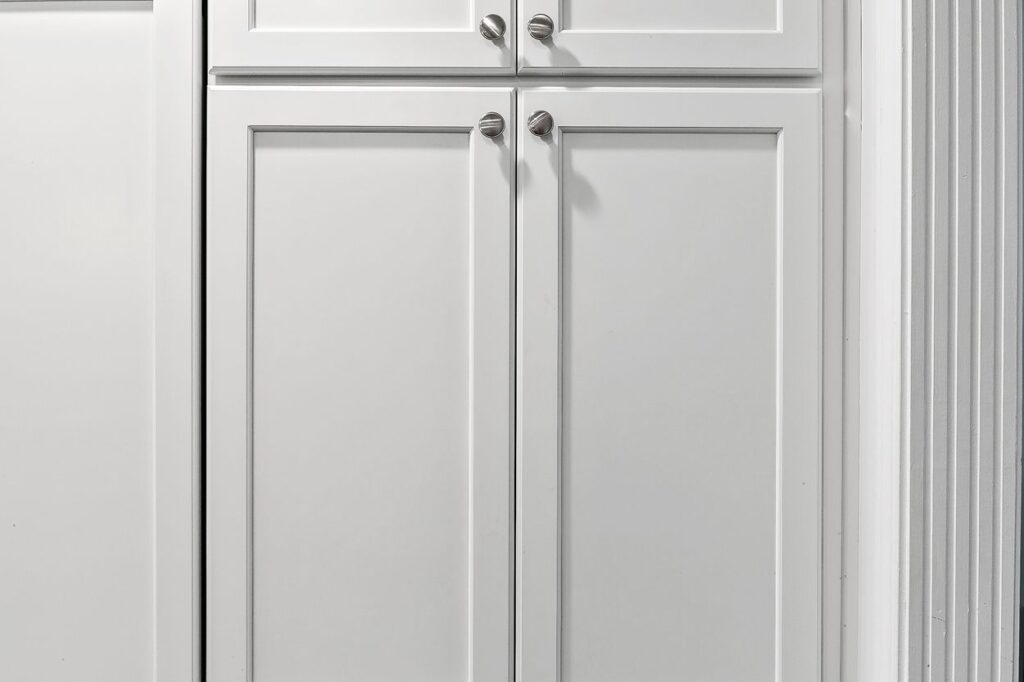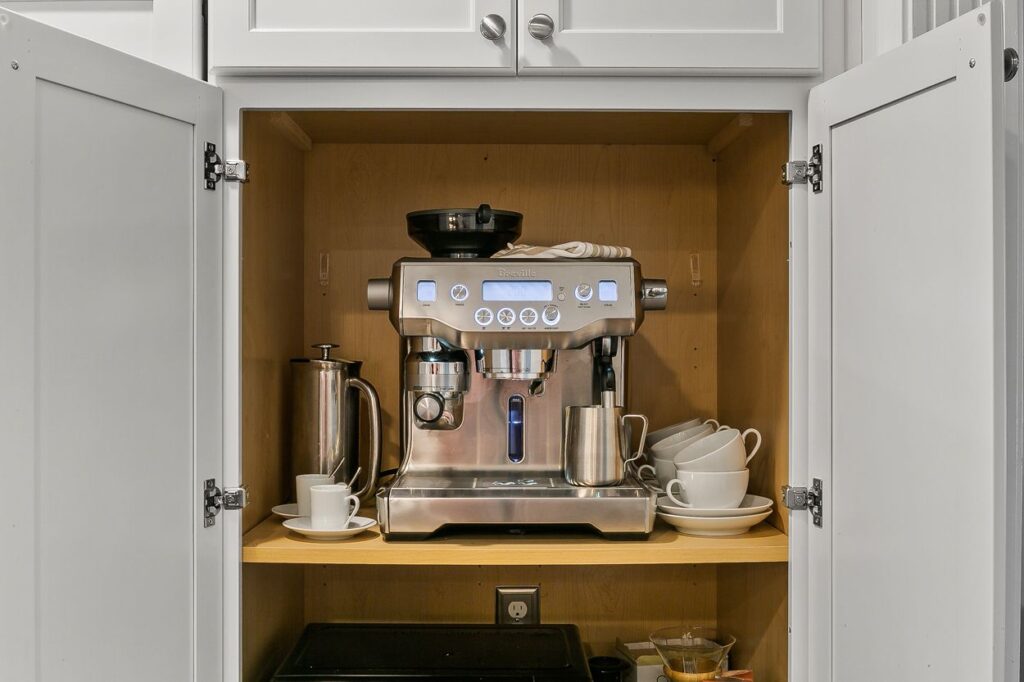 Only having one wall of cabinets/counter/backsplash meant we'd be slightly limited on where we could sit bigger countertop appliances, and our espresso machine is a whopper. We added electric in the back of the cabinet (which works for our microwave, too), organized our latte and espresso cups, and each morning, it's a pleasure to pop the cabinet open for an iced latte with honey. Perfect.
The island. Our new Bosch dishwasher received the same treatment as the fridge with a cabinetry panel, and very happily hides out in the island next to our sink. The cabinets themselves are standard base depth- 24″- but we found a HUGE piece of Carrera marble to provide a 14″ overhang on the rear. Here, we finished out the cabinet backs with finished panels, and extended the ends to make it appear, from the side, at least, that the entire island was as deep as the counters. This allows any barstools to happily slide underneath and hide/not cause a tripping hazard.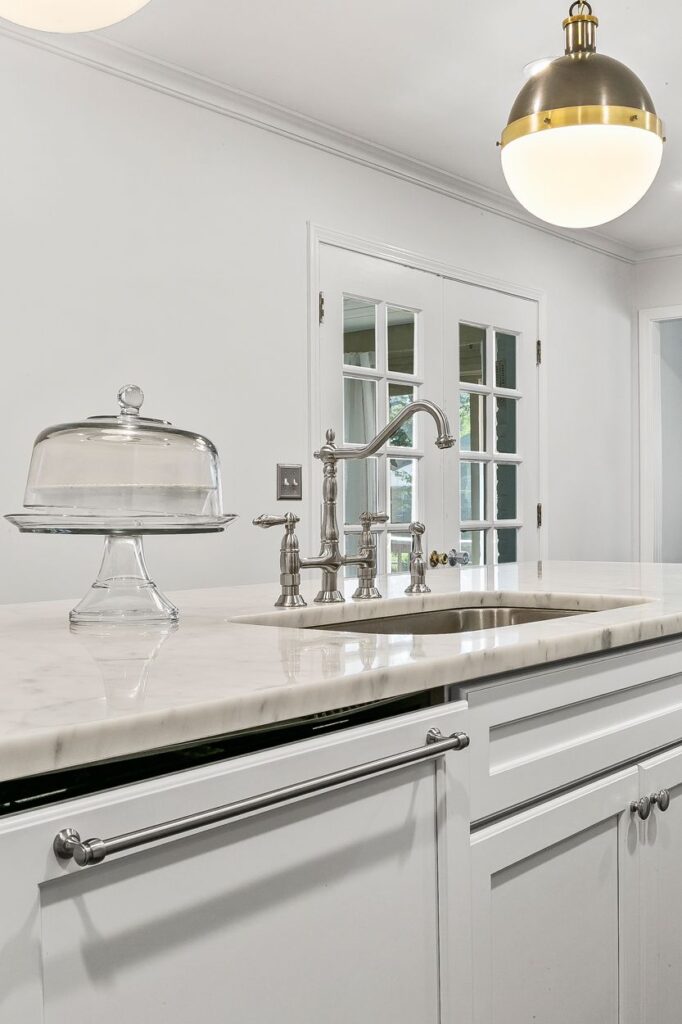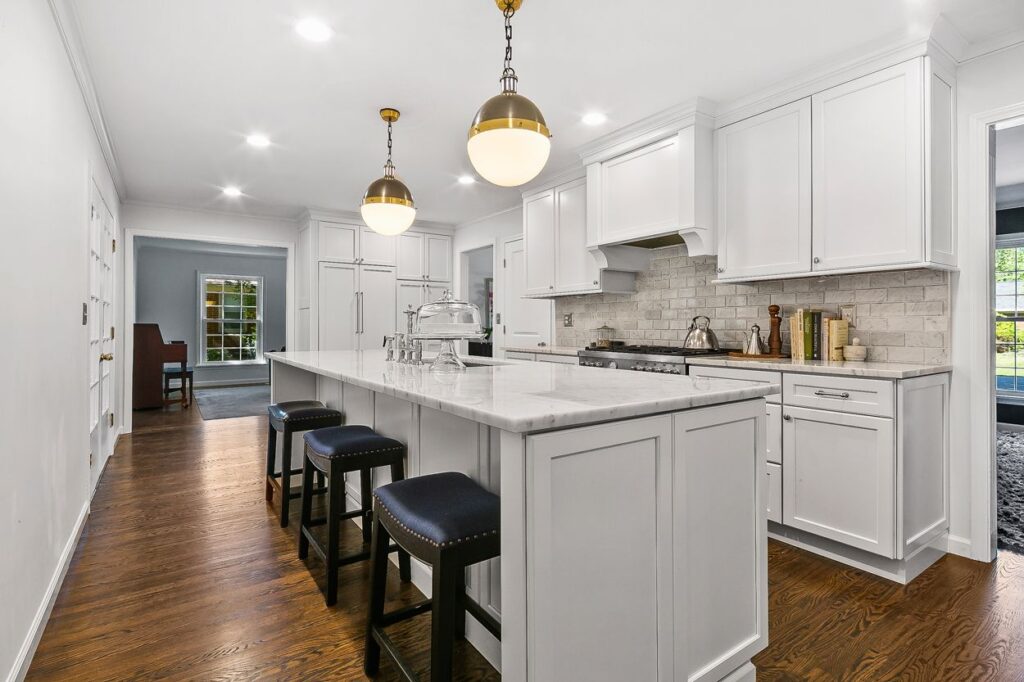 A friend was over recently and asked if we'd finally built our dream kitchen. I wasn't 100% sure how to answer. There are really just two things that I wish I could shift in here; I wish I could find the forever barstools (we're still on the hunt, but these from Frontgate are doing the job just fine), and we're contemplating opening up the wall to the sunroom to allow in more light. Essentially, we'd double the size of the French doors that are here. I'm not sure, though, that we think it's necessary. We've loved standing in here creating meals, sitting at the bar together over morning coffee. Our dream kitchen? I think so.
** first photos by listing Brokerage, Schuler Bauer **
** photography by Don Lehman **
** Sources **
Cabinets: Kraftmaid
Cabinet Hardware: Restoration Hardware
Marble: Carrera Marble from Mee's Tile and Marble
Fridge: Fisher and Paykel
Dishwasher: Bosch
Range: Bertazzoni
Espresso Machine: Breville
Pendants: Hicks by Visual Comfort and Co.
Stools: Frontgate
Gold Frames: Target (custom mat)
Books: Carmichael's/Scout on Market/Williams Sonoma
Salt Cellar: Mahonia
Treat Jars, Wood Tray Cake Plate: Target
Butter Jug: Le Creuset
Oil Can, Salt and Pepper Grinders, Pie Pan: Williams Sonoma
Faucet: Kingston Brass