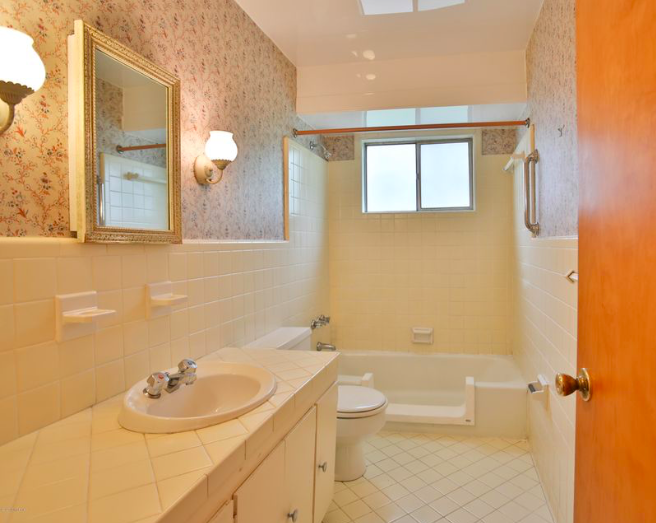 Truth be told, this is sort of our primary bathroom, even though it's really the hall bath upstairs, but we don't really sleep in the primary bedroom because the layout in one of the other bedrooms worked better for us, and the primary bedroom with the attached en suite bath just seemed to work better as a guest suite, especially since Bryan's mom is our primary guest, and usually stays for a long period of time, so that gives her privacy.
Are you completely lost?
It's ok. So were we at first. We moved our furniture into the primary bedroom, and it just… didn't work. Not for us. Since we don't have anyone else that lives with us, we decided to move into the biggest of the 4 bedrooms, turn the smallest into an office, use the mid-size as a yoga and Peloton spot for me, and use the Primary suite as the perfect private guest suite. This essentially turns the rest of the second floor into one huge primary suite for us.
We weren't planning on touching either of the bathrooms for quite a while, but when we had to tackle the plumbing issue in the kitchen, the easiest access for some of those pipes was from above. We were given the option of gutting one bathroom or the other. We wanted to keep a tub, and since the one in this bathroom didn't function (see before photo), it drew the short end of the stick.
I'm sure you wanted all of that info.
So, here we are. A year later, now swathed in marble, here's our hall bath: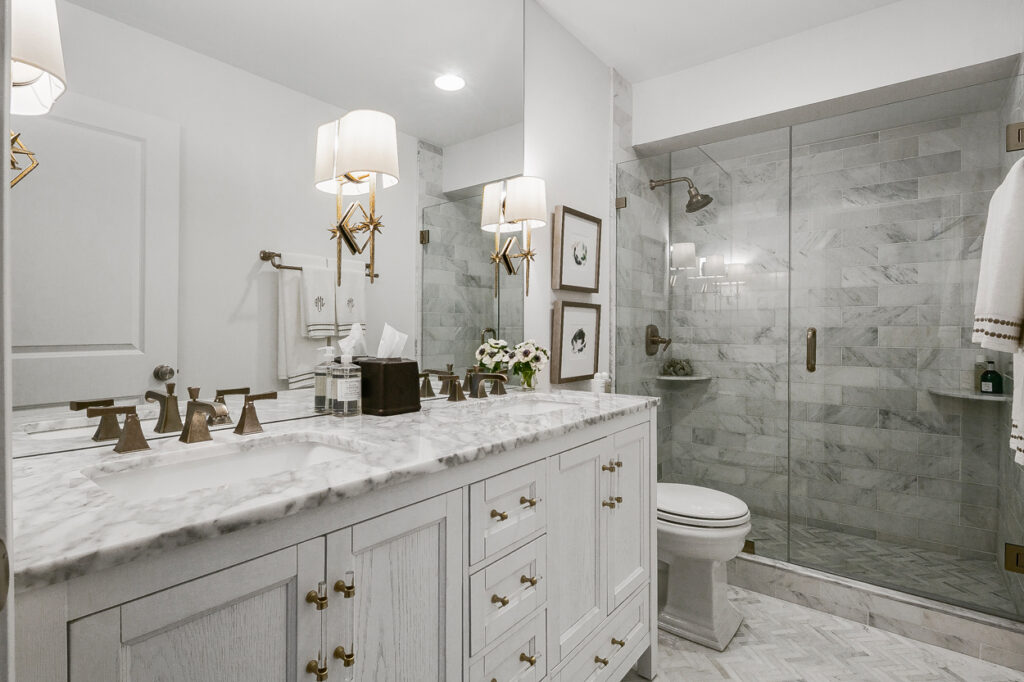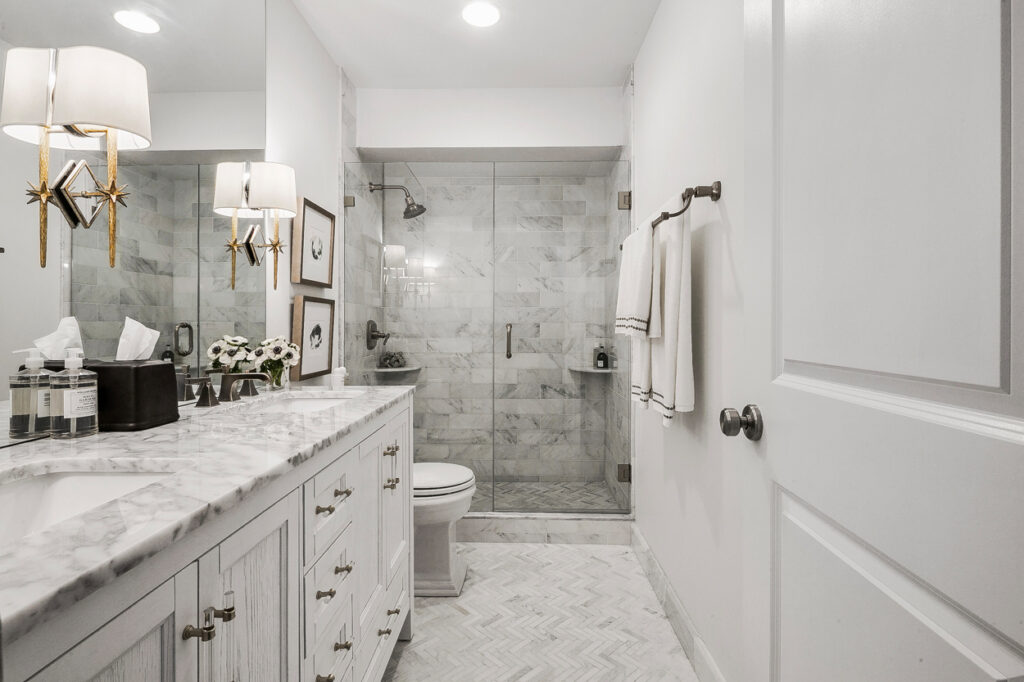 First thing first; you'll notice that the window is gone. This was a decision we made up front that will happen in both bathrooms. The size of the ones here meant that we were going to be stuck with a sliding window (which I'm not a fan of), and it looked like the ones that were here weren't water tight. We had some wet wood framing in the wall that was replaced. From the exterior, we'll cover up the old window space with siding when we re-paint.
For more fun stuff, I've always wanted to use this smaller herringbone marble in a bathroom, and we finally had the chance. A combo of the herringbone, a 4×16″ wall tile, and the marble countertop all rather flow together to make this space cohesive and soothing. I wanted to keep so many elements of our old bathroom (are you seeing a theme here?), so the same faucets, towel bar, and bath hardware are here, as well as the monogrammed towels, and art.
The biggest shift from the old house to this one was the paint. At the old house, in both our bedroom and attached bath, we used Safari Beige from Valspar, but here, Sherwin Williams Extra White (my favorite white) is on the walls in an eggshell finish.
I loved these Etoile sconces from Visual Comfort the second I saw them, and knew I wanted them in here. The problem was finding mirrors that would fit between without looking puny, so we ended up working with Kentucky Mirror and Plate Glass to add a wall-sized mirror that the sconces could mount on top of.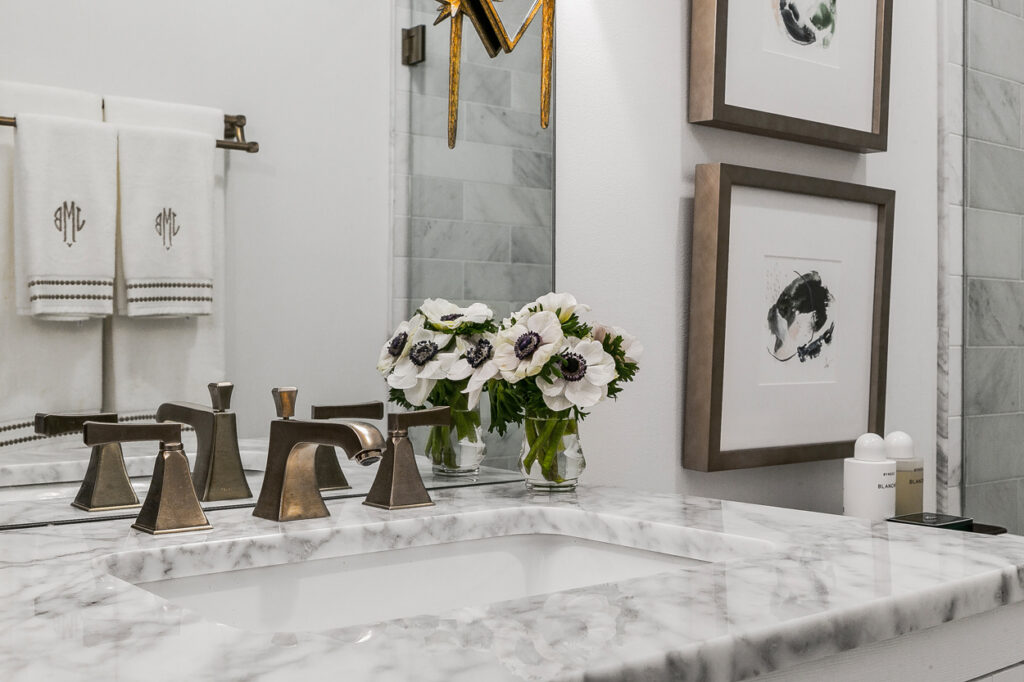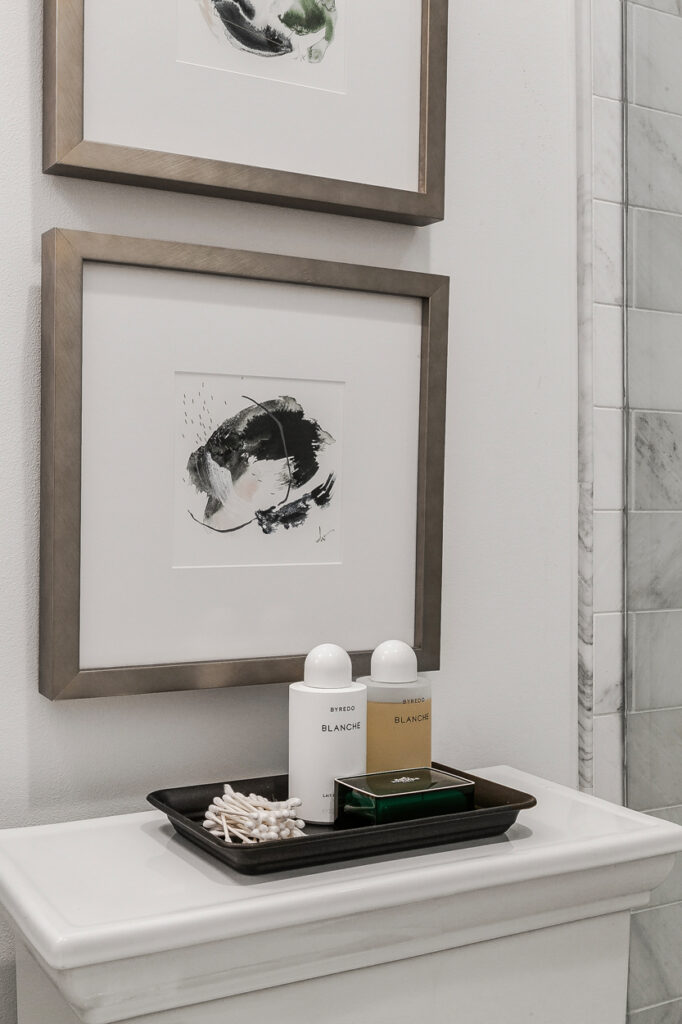 We kept the decor and details clean and thoughtful. Since Byredo's Blanche and Hermes Eau D'Orange Verte are our go-to scents, we have them stacked on a tray on the toilet, and within easy reach on one of the shower shelves. I love art in any space, and these prints from Artfully Walls have become two of my favorites. Why not have them in a space that I'm in every day, morning and night?
We've been so happy in here- the stand up, all-marble shower feels so much bigger than our old step-in tub/shower combo and shower curtain. The floor tile is almost shimmery in the light from our sconces. It feels like we're creeping closer to be complete as a home, but having a happily functional bathroom makes it seem like nothing else matters.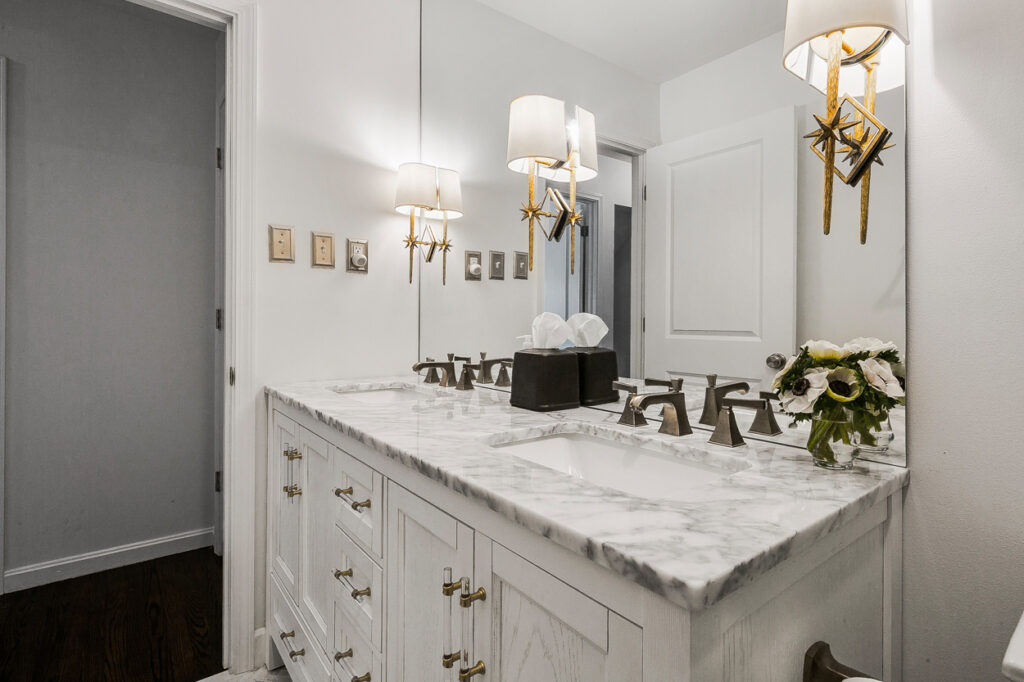 ** first photo by listing Brokerage Schuler Bauer **
** photos by Don Lehman **
** sources **
tile: The Tile Shop
mirror, glass door: Kentucky Mirror + Plate Glass
hardware: Kohler Margaux
sconces: Visual Comfort
toilet: Kohler Memoirs
vanity: Lowe's
cabinet hardware: etsy, Lux Holdups
fan/light: Broan
towels: Pottery Barn
art: Artfully Walls
frames: Custom
tissue holder, tray: Target
toiletries: Necessaire, Hermes, Byredo