There's almost nothing I love more than a little half bathroom. To me, if there's ever a room in a house in which you can go slightly overboard and a little wild, it's in these tiny occasional rooms, and if said powder room happens to be the space where guests always steal away for a quick toilet trip when they're over for a visit, I want it to be even more fancy-schmancy and pulled together.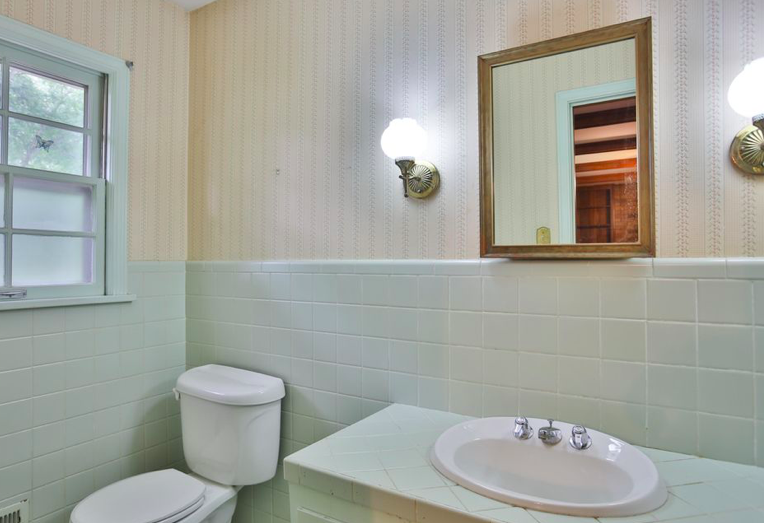 When we moved in, this powder room was- like every other space in the house- a little outdated. There was pale, seafoam blue tile on the floors and hallway up the walls… and on the vanity top. A peachy, floral wallpaper was on the upper walls, and the tiny little mirror didn't really do anything for someone like me who may or may not have had to stand on tiptoe to see, since they're a happy 5'2″.
We ripped everything out, and had just laid the new subfloor in here when our Great Plumbing Project turned up a serious deficiency in here. The subfloors came right back out, and all new plumbing and a new vent went in. This little room, like the rest of the house, got a new window and coffee-stained oak floors, and then the fun began.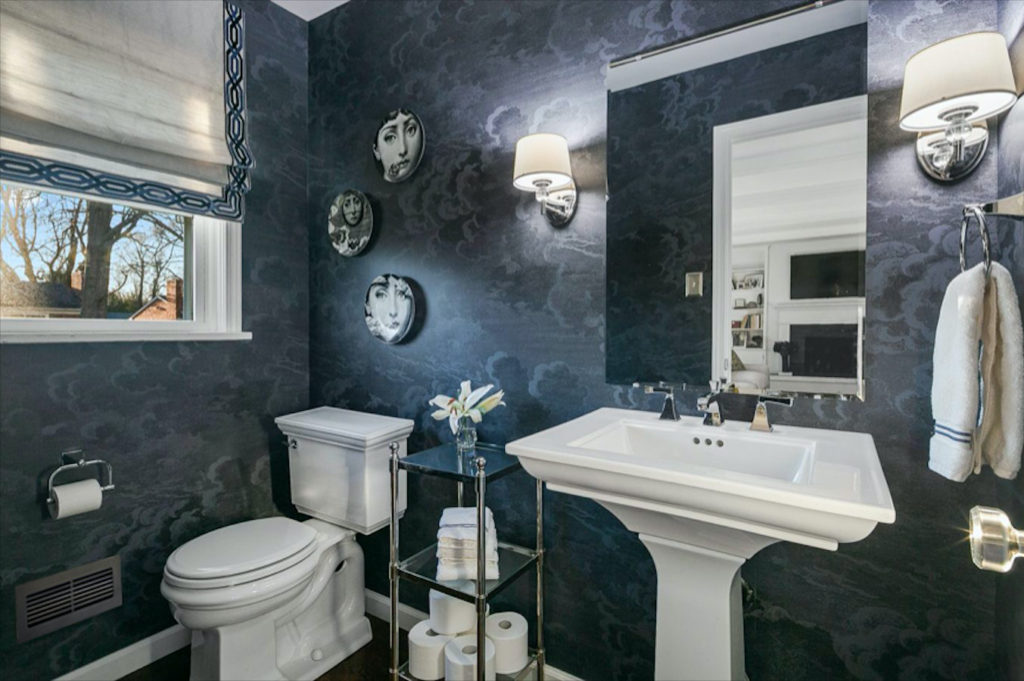 This is the same view- can you believe it!?
I had obsessed over Fornasetti's Nuevolette wallpaper for years. We were debating removing the graphic wallpaper in our powder room in the townhouse and replacing it with the popular gray version. It just felt like in this house, though, the navy would be right at home, and I'm so glad I decided to go with a color rather than gray. Wanting to take the pattern a little further, I snatched three of the Fornasetti Lina Cavalieri plates to hang behind the toilet, then partnered with my girl Crystal Smith at Bittners to build a custom roman shade for in here. This bathroom looks right out onto the back patio, so privacy is needed, on occasion.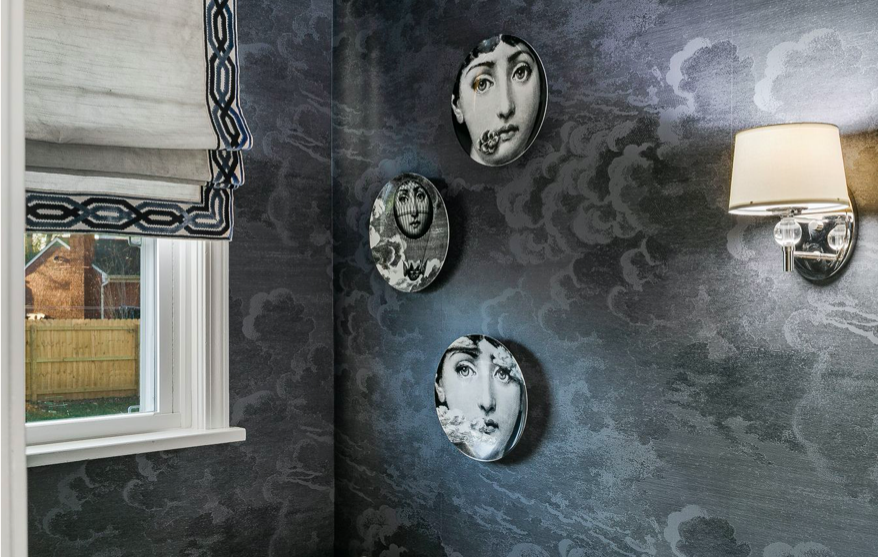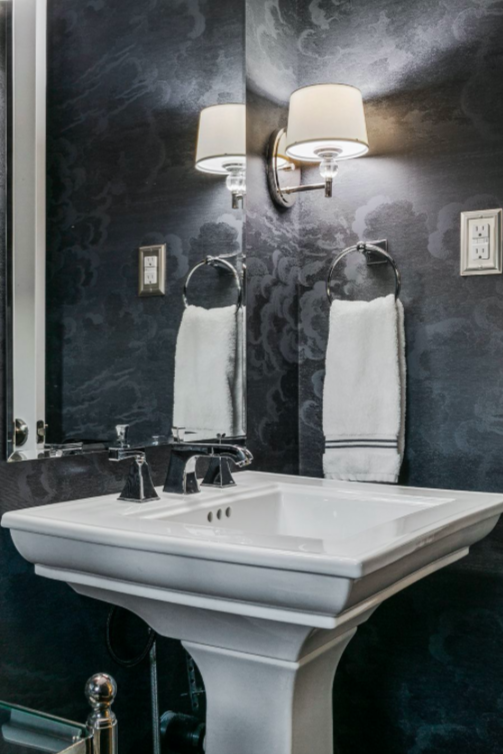 The pedestal sink and toilet are both the Memoirs collection from Kohler, and the faucet, tissue holder, and towel ring are all Memoirs in polished chrome (the same as in the hall bath, but in a different finish). I had bought the sconces from Lamps Plus almost 10 years ago and never used them, and really love the glass ball in here. The mirror is relatively cheap, found at Home Depot.
After everything was installed, it felt like there was just a big, wasted space between toilet and sink. A browse on Pottery Barn's site turned up this cute chrome and glass shelf, which has turned out to be pretty perfect for storing extra tp (which is usually all the way upstairs in our cleaning closet), extra hand towels, and fragrance of some sort. Right now, it's these gorgeous lilies.
It's super formal in here… more formal than the rest of the house, but it still feels like it fits. This room is just off of our den, where we watch TV, and just glancing in this direction and seeing these crazy good storm clouds makes me so, so happy.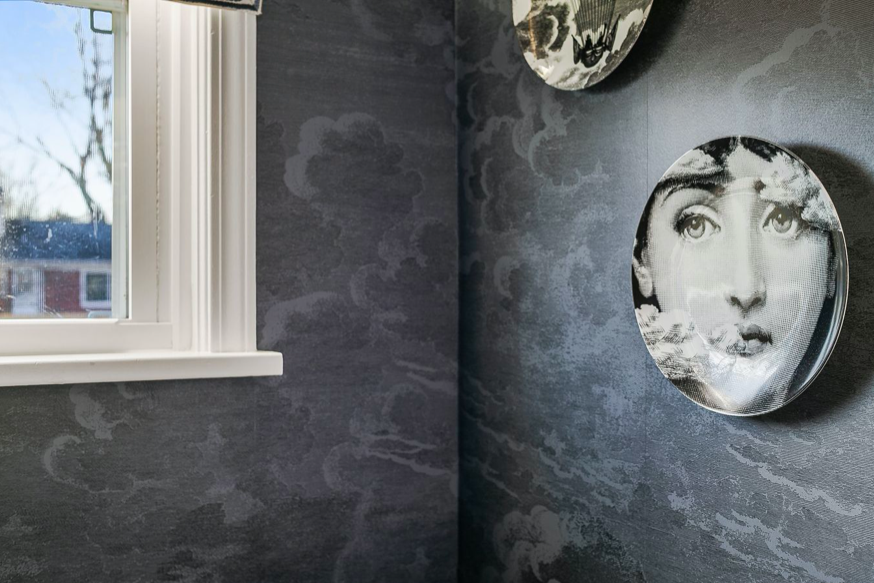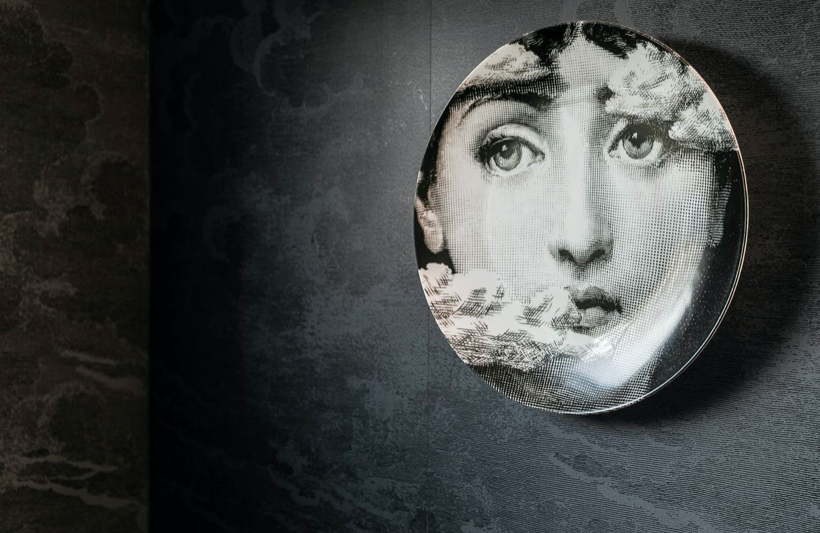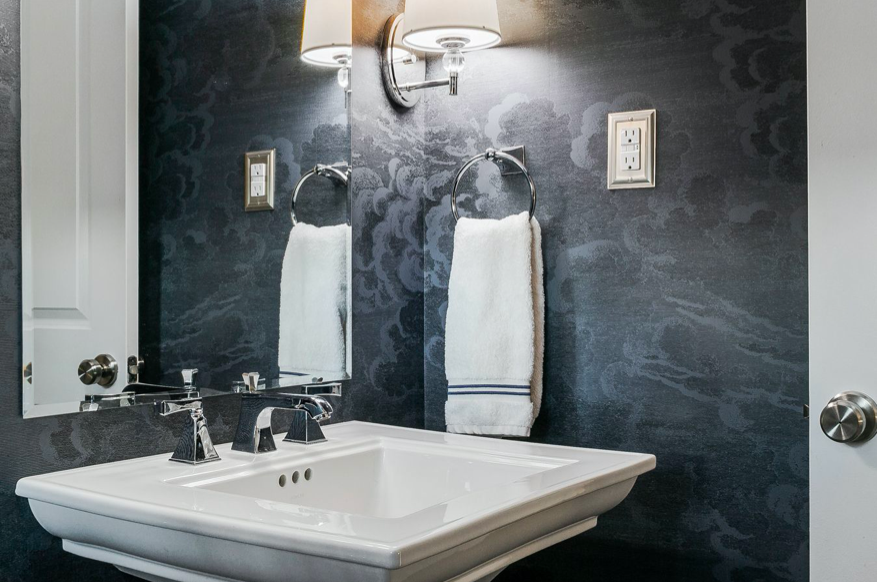 ** this post is not sponsored in any way. all thoughts and opinions are my own **
** first photo by listing Brokerage Schuler Bauer **
** photos by Don Lehman **
** sources **
wall covering: Fornasetti
plates: Fornasetti
toilet, sink, hardware: Kohler
shade: custom from Bittners
shelving: Pottery Barn
mirror: Home Depot
sconces: Lamps Plus
towels: Target