There are a few things we Louisvillians take seriously. UK versus UL in any sport. Our Bourbon. Any recipe remotely resembling fried chicken. And the Derby.
Sure, you'll have a few naysayers that believe that the Derby and all of the festivities surrounding it are nothing but a bunch of pomp and circumstance- a chance for our local hotels and restaurants to jack up the prices, while the some folks celebrity worship those who come in. But almost everyone is interested in the race and the glamour around it in some way. A 3-year old nephew may just think that the horses are pretty, while a teenage daughter interested in fashion may be mesmerized and inspired by the millinery. Some of us want to bet, gloat, win. Others… Well, for the rest of us, we live for this.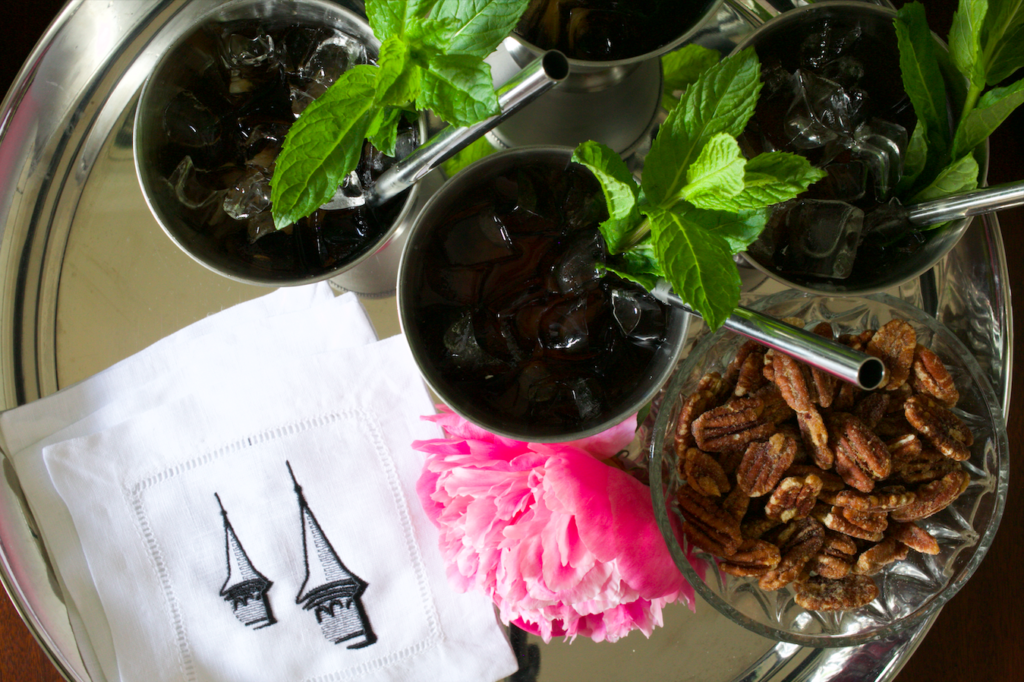 While the days are long gone that I celebrate the holiday from Wednesday night to Sunday morning non-stop, I still love to think that I have some sort of knowledge on how to bet the ponies, and I still get weepy-eyed when I hear My Old Kentucky Home being played. The call to post sets my pulse to racing. This is my city. My home. My heritage.
If you want to celebrate, too, no matter where you are, a few ideas on how to host the perfect Derby Day get together;
** Suggest a dress code. This doesn't need to be fancy-schmancy, although, I prefer it to be. How often do we have the chance to wear seersucker? Or giant hats? Perhaps "Clubhouse Chic" or "infield casual" on an invite. Or- heck- have a mix of all of the above! That's what you'd see at the track.
** Perfect your Mint Juleps! Find my favorite recipe from St. Charles Exchange here. Have plenty of Bourbon on hand, as well as cocktails that don't involve whiskey. Not a drinking crowd? Find yourself a big, silver drink tub, fill it with ice, and bottles of Ale-8-One, the super tasty ginger soda made here in Kentucky.
** It's called the Run for the Roses for a reason (in the late 1800's, a New Yorker named E Berry Wall handed red roses to all the gals at a Derby party. Churchill Downs founder Meriwether Lewis Clark declared the red rose the official flower of Derby, and a tradition was born of draping a blanket of roses over the winning horse). Find yourself some flowers!
** Have something to do. While there's live racing all day, there's some lag time closer to the actual Derby race in the 6pm hour. Grab some lawn games like badminton or croquet, or have horseshoes set up.
** The food… At Churchill Downs on race days, unless you're in the super fancy seats, traditional game day food rules supreme. My favorite Derby Day lunch is a hot dog and a mini bottle of champagne (you can judge me). However, if you want to put together a non-tailgate spread, put out some country ham sandwiches, benedictine, or pimento cheese with a bucket of KFC (no, really). Feeling brave? Go all in with some Hot Browns. Don't forget Bourbon Balls and Derby Pie!
** Have some fun. Lose some money. Download the TwinSpires app to bet and win in real time. Maybe have a $10 buy in and draw names out of the hat for the winner. Whatever you do… Delight in the spirit of the season!
** this post is not sponsored in any way. all thoughts and opinions are my own **
** photo by Kyle Lueken **