Coming to a home like this one- a large center-hall Colonial, built in the mid-60's- from a chic and slender townhouse was not without a few head-scratching moments of "how do we make this work?" One of the biggest spaces that just didn't seem conducive to our lives was the entry. Dominated on one side by the stairs and by a massive coat closet on the other, the foyer was really just a skinny hall between the living and dining room that dead-ended at the swinging doors to the kitchen. There was no place, really, for a drop zone, art, or a statement.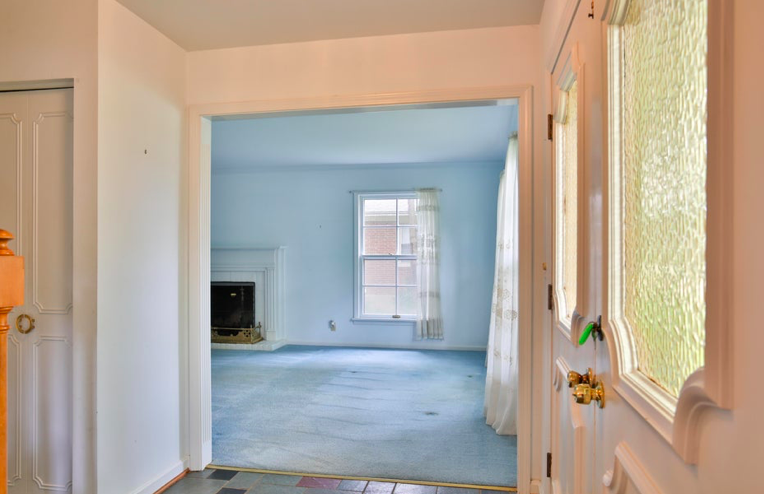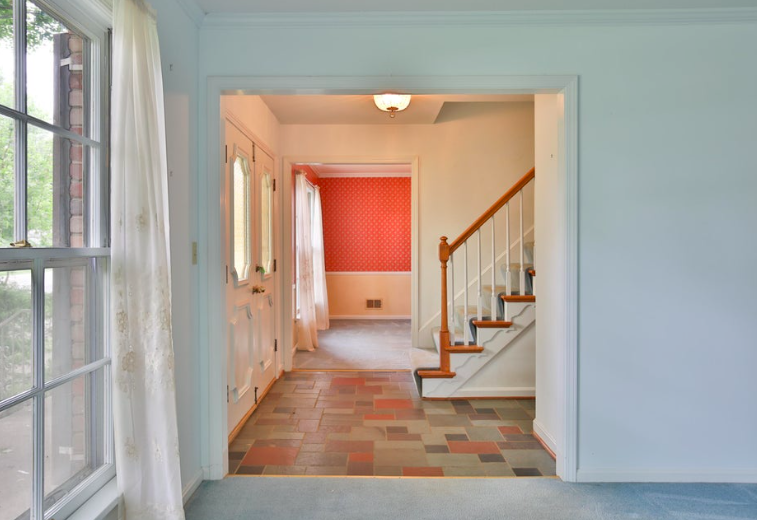 The floors here were a red and green ceramic tile. There was pale blue carpet on the stairs, and a pretty but small crystal light fixture that didn't really fit the size of the space. Or, at least, didn't fit the size of the space once we replaced the front door with ones that let in light, and removed the coat closet and the door to the kitchen to open things up.
It was removing the closet that really did the most to change things here. Taking those walls out (and having my friend Mike mistakenly hiiii-YA! his boot through one that he thought was supposed to be removed…) made the space seem 100 times larger than it was on day one, and now? Now, she's gorgeous.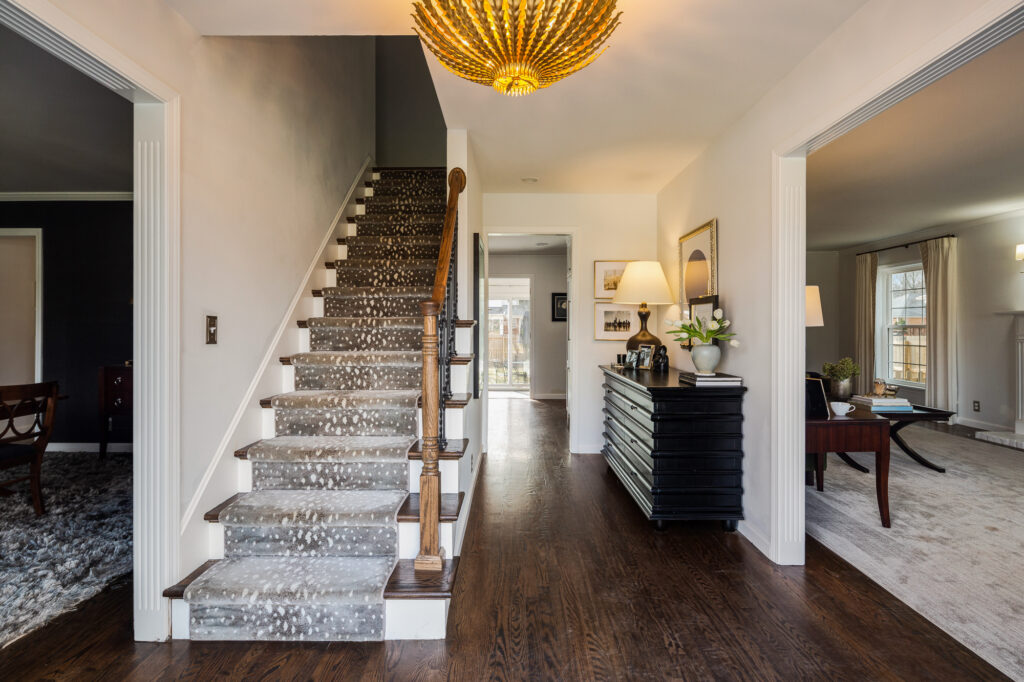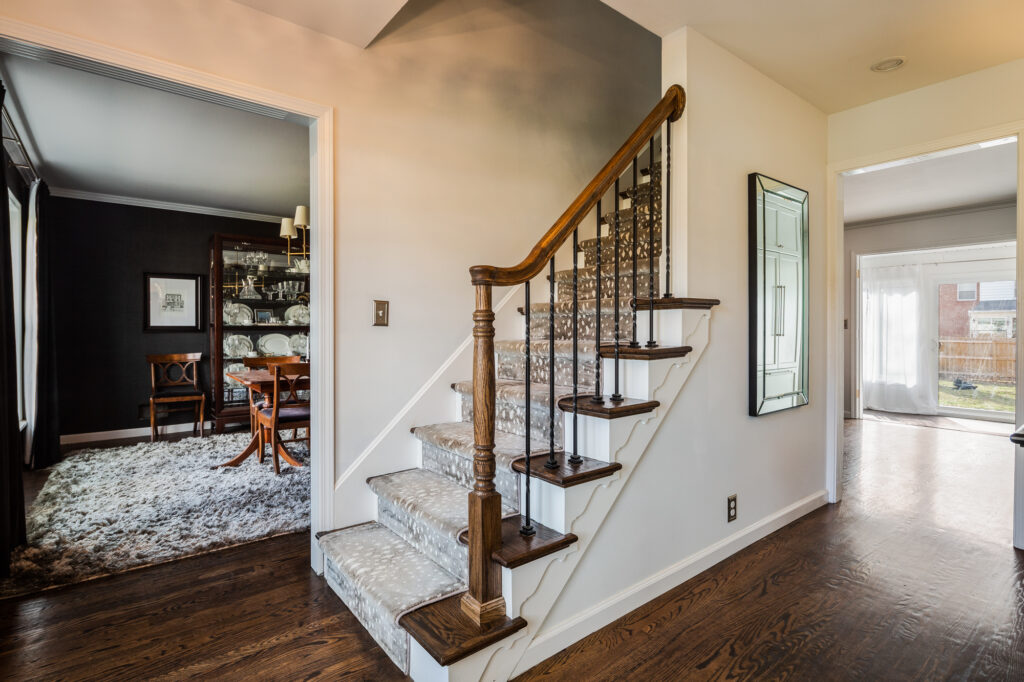 The same oak flooring went down in here as it did the rest of the first floor, and got a gorgeous chocolate-brown stain. The walls and trim were painted Benjamin Moore's White Dove.
The gorgeous stair runner is the antelope from Stark Carpeting, sourced locally at Carpet Specialists. The overhead light is the Hampton Large Chandelier from Aerin at Visual Comfort, and it's incredible. As soon as it went in a few weeks ago, this area completely changed. The white balusters were switched out to wrought iron, and the stair railing was replaced and stained to match the floors.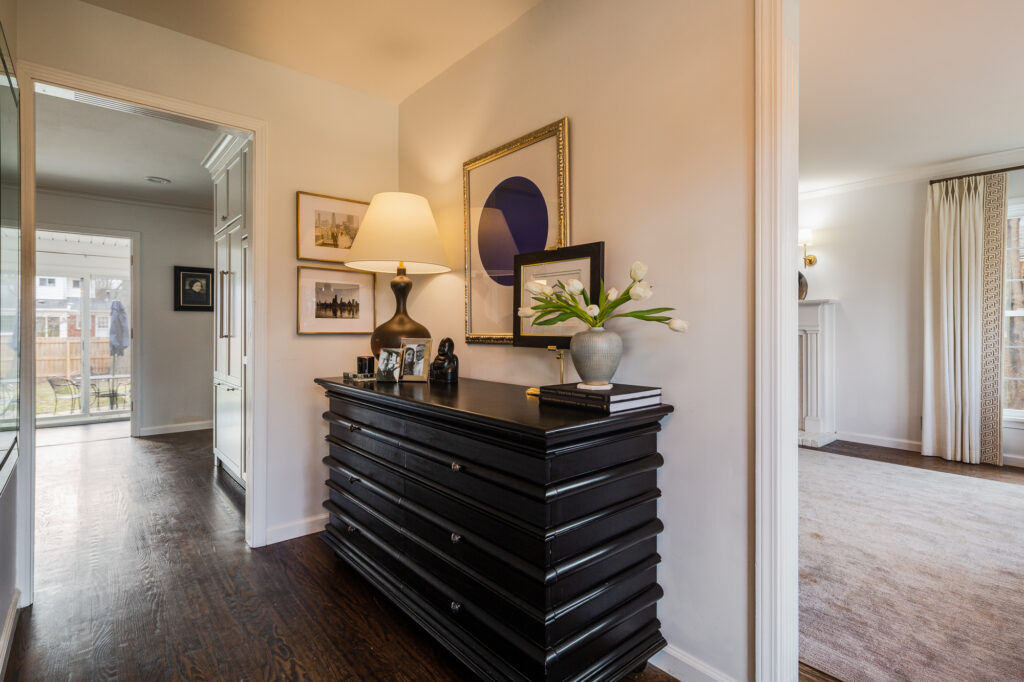 The dresser kept popping up in beautiful rooms created by Alice Lane Home. It's the Ascona dresser from Noir Furniture, and it was EX-PEN-SIVE. I was patient, and when I saw one pop up in Chicago on 1stDibs for a fraction of the original price, I jumped on it. Within a week or so, she was here, and without a flaw.
We knew that our "big blue dot," an Yves Klein print, would live here, and it took a while to figure out art and accessories, but this is where we landed; photos from our wedding day on the wall, a couple of our favorite photos of the two of us framed among a candle and my Buddha (more on him next week), as well as a few coffee table books on local architecture and a sketch of one of our homes. A large wall mirror from Pottery Barn on the opposite wall gave me a spot to check and see if I'm decent before answering the door or bopping out for the day.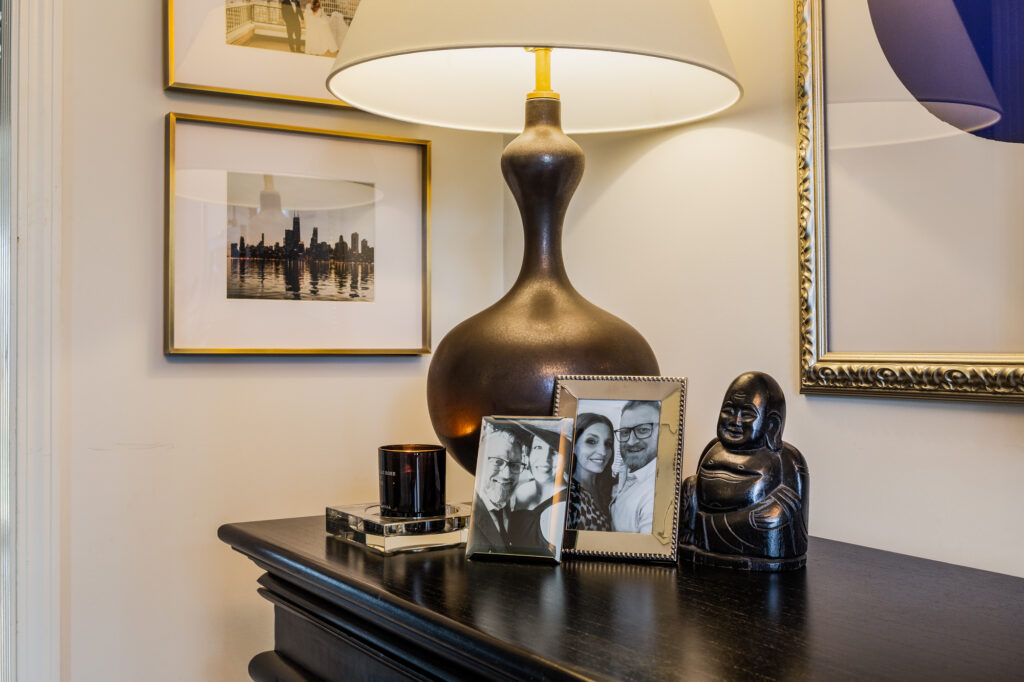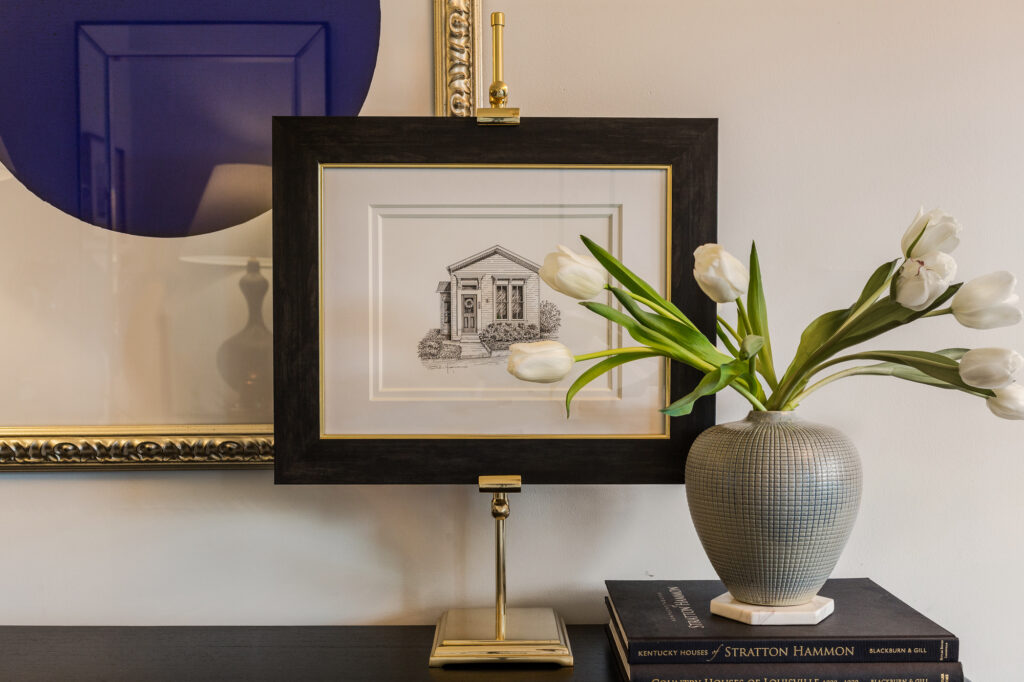 A friend walked into the house right after we'd finished hanging the light and the mirror and said that it had finally come together. He's right. This space sat incomplete for so long… Partly because I didn't want to pay thousands of dollars for the dresser. Partly because I had no idea what light fixture we wanted. But now, the first part of our home you see really makes it feel like you're walking into a place that's very us; it's clean, it's simple. It feels like home.
** this post is not sponsored in any way. all thoughts and opinions are my own **
** first two photos by listing Brokerage Schuler Bauer **
** other photos by Don Lehman **
** sources **
runner : Stark Carpeting
light : Aerin for Visual Comfort
lamp : Visual Comfort, purchased locally at Clare Miller Home
dresser : Noir Furniture
mirror : Pottery Barn
wall photo frames : Williams Sonoma
wall art frame and sketch frame : custom
tabletop frames : Pottery Barn
books : local at Carmichael's
easel and crystal dish : Alice Lane Home
candle and vase : local at Clare Miller Home
coaster : target
buddha : vintage