I grew up spending most of my free time in my grandparents' home. It was a tiny little 1940's ranch home with two bedrooms. One of these was my grandma's room (my grandpa had an apartment to himself in the basement), while the other was called the "den." Here were their two recliners, a pull out sofa (my bed), and the tv. The living room was just what you'd think. Made for living. The nicer upholstered furniture was in here, and a long, low stereo style record player, art on every wall… It's where they received visitors, played music on the weekends, put up a card table for Friday night canasta games. It had a lovely view of the dining room, where- usually- there would be a layer cake on display on the table, with coffee service and dessert plates at the ready.
I knew that, when I grew up, I wanted a room like this one. Formal but inviting, televisionless, with flowers on the table, pretty things on the walls, and music on the weekends.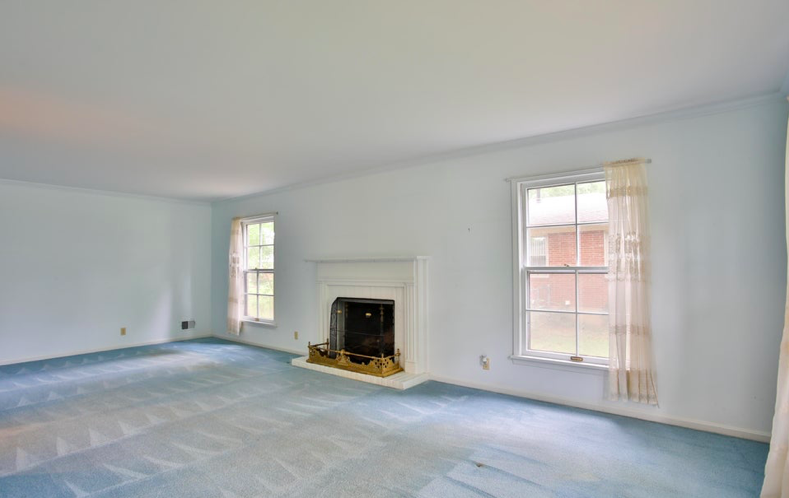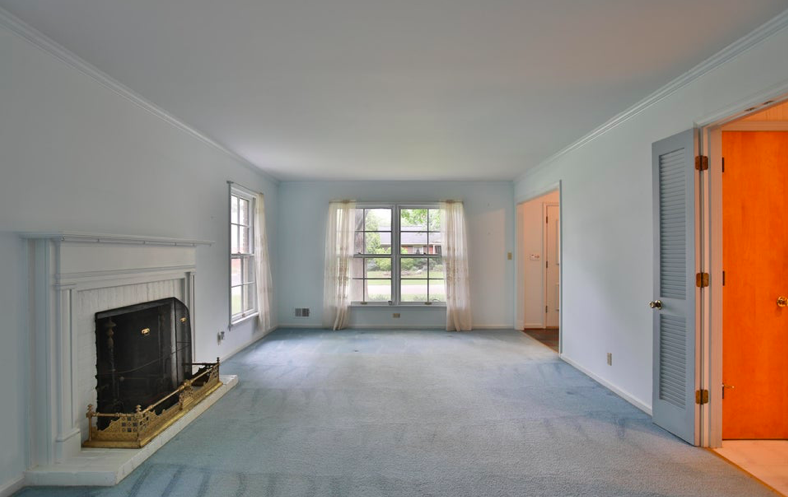 The formal living room in our house came with a few hurdles. The pale blue carpet that sadly did not cover hardwoods- just sub flooring. There was a weird door in the middle of the long wall (on the far right in the photo above) that was sitting in a weird place and was the only direct opening into the kitchen (not to mention, only 24″ wide. With doors). But- there were many redeeming qualities that with a little work could turn this room into something lovely.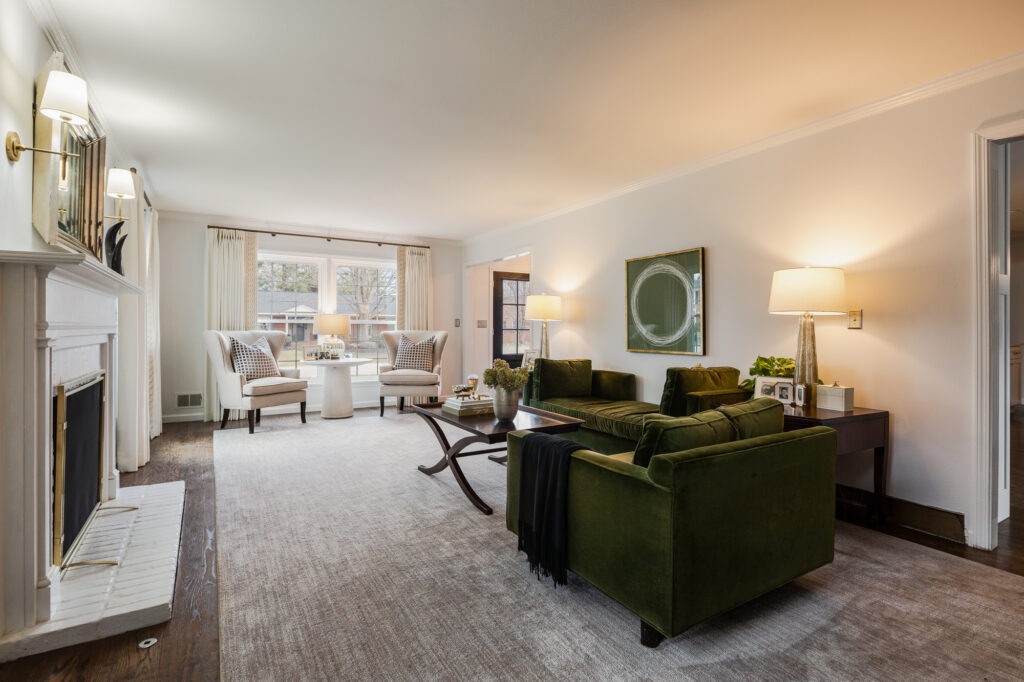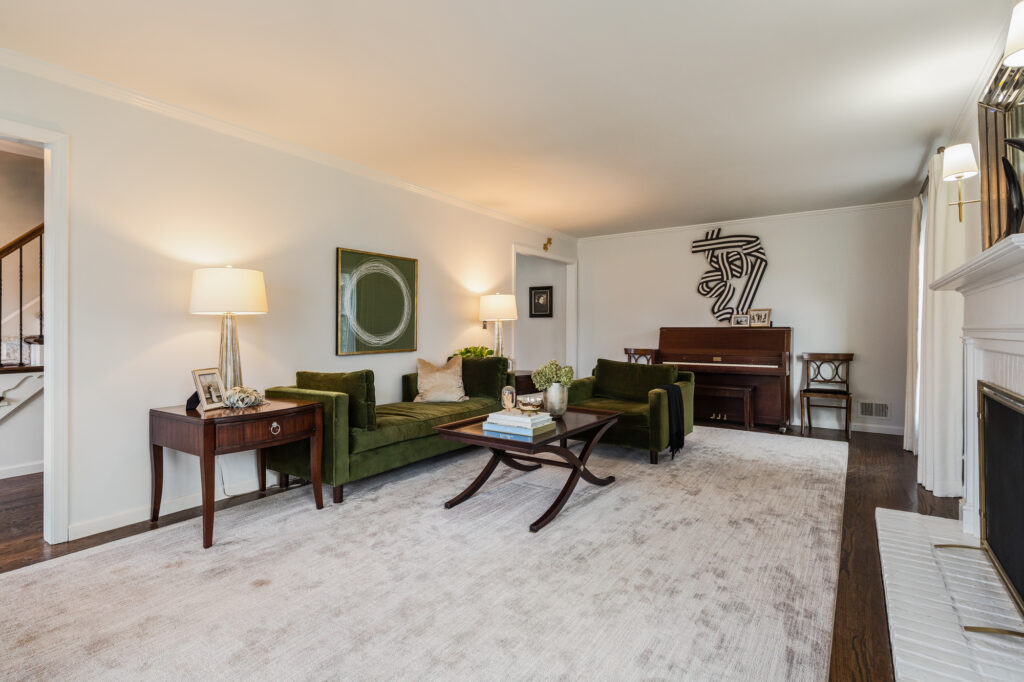 We laid oak hardwood in here, replaced the windows along with those in the remainder of the house, and moved the door to the kitchen, creating a huge opening mirroring the one to the entry and creating a long wall where our sofa and end tables could fit. We added sconces above the fireplace, and painted the walls in Benjamin Moore's White Dove, and…. That's it. The rest was just decor.
I've been called a minimalist when it comes to decorating, and while I'm not 100% sure I agree, I do know that there are certain simple things that draw my eye; jewel tones, mid-century minimalist-inspired art, and monochromatic rooms. In here, it seems like we have a mix of all of these things.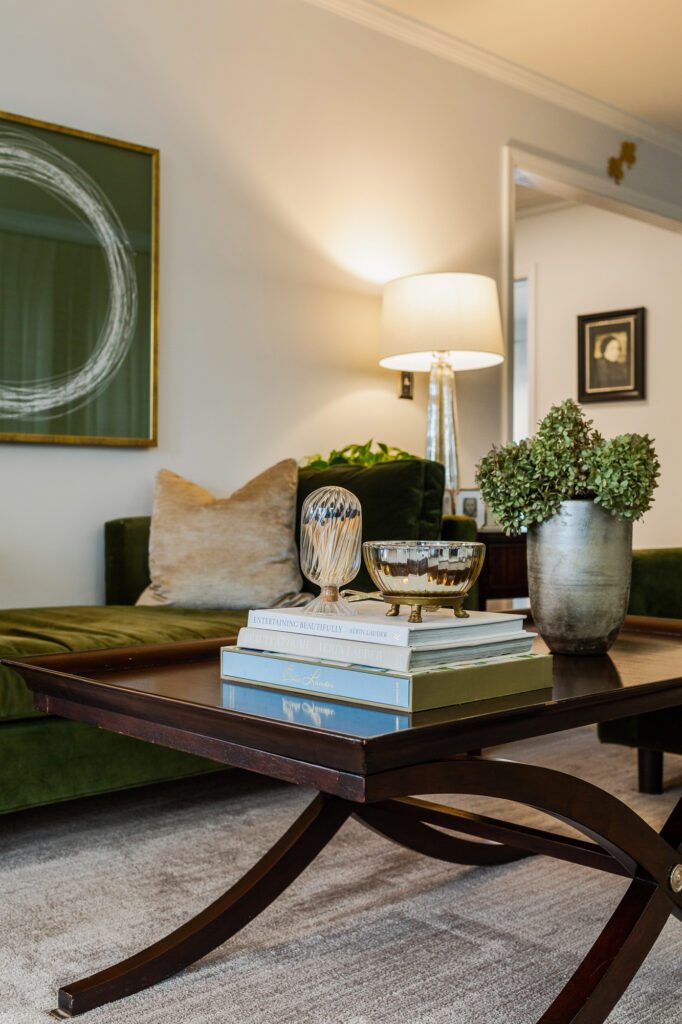 Our bottle green sofa and armchair came from Mitchell Gold + Bob Williams several years ago. A gorgeous painting on green silk by Kayce Hughes hangs above the sofa, and the last of last year's hydrangea and a dappled plant keep all of the "color" in one spot, creating a little nook of seating in the middle of a very long room.
The end tables and coffee table are the Metropolis Collection from Hekman Furniture. I purchased the end tables years ago, and stumbled upon the coffee table being sold by a client at a listing of theirs. It came home in my trunk the same day.
The rug was cut and bound by our friends at Carrell Rogers Carpet One. It's size- 24′ by 13′- would have been next to impossible to find if a custom option wasn't available. Ken McDonald, our go-to at Carrell Rogers, recommended finding a carpet we liked for the space, and having it cut to our specified size. We ended up loving the idea and repeating it in our den and bedroom, as well.
The piece over the piano is from Angela Chrusciaki Blehm. Her ribbon pieces are so fun- I'm hoping to snag one of her smaller walnut versions for the upstairs hall. The curtains (which you'll hear more about next week) and the hardware were custom from Bittners, and feature a Mary McDonald for Schumacher Labyrinth tape trim in bronze.
The piano was a free find on Craigslist, and my movers (shout out to Realtors' Choice Moving here in Louisville) happily picked up and delivered. It's flanked on either side by extra dining chairs from my grandmother's Duncan Phyfe-style set. Soon, they'll be replaced by these Ankara chairs which have been ordered from Crate and Barrel and are on backorder.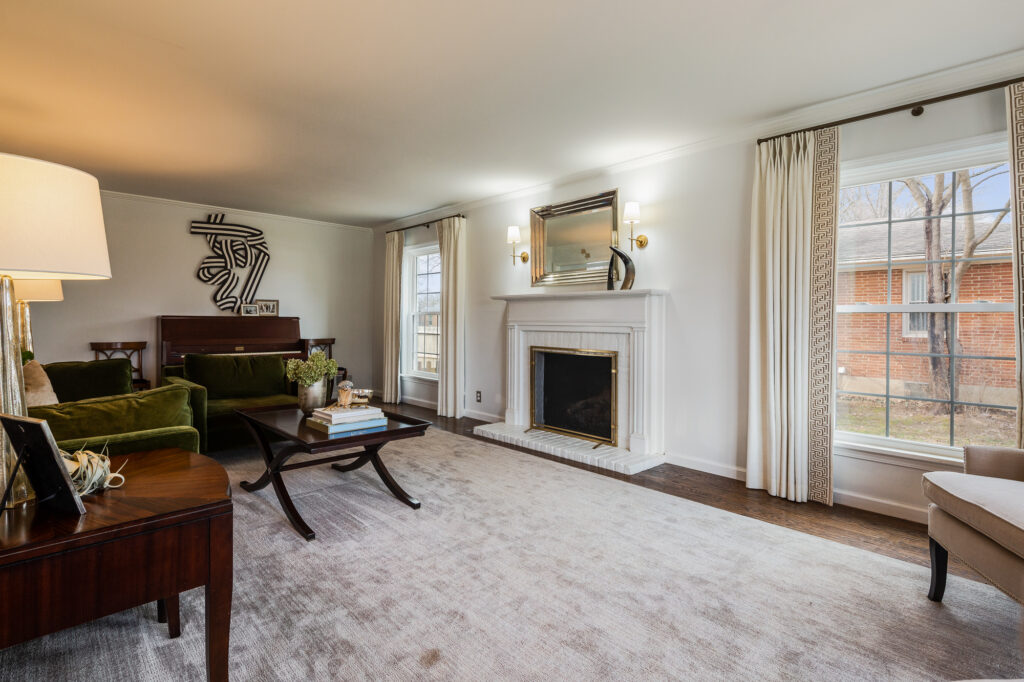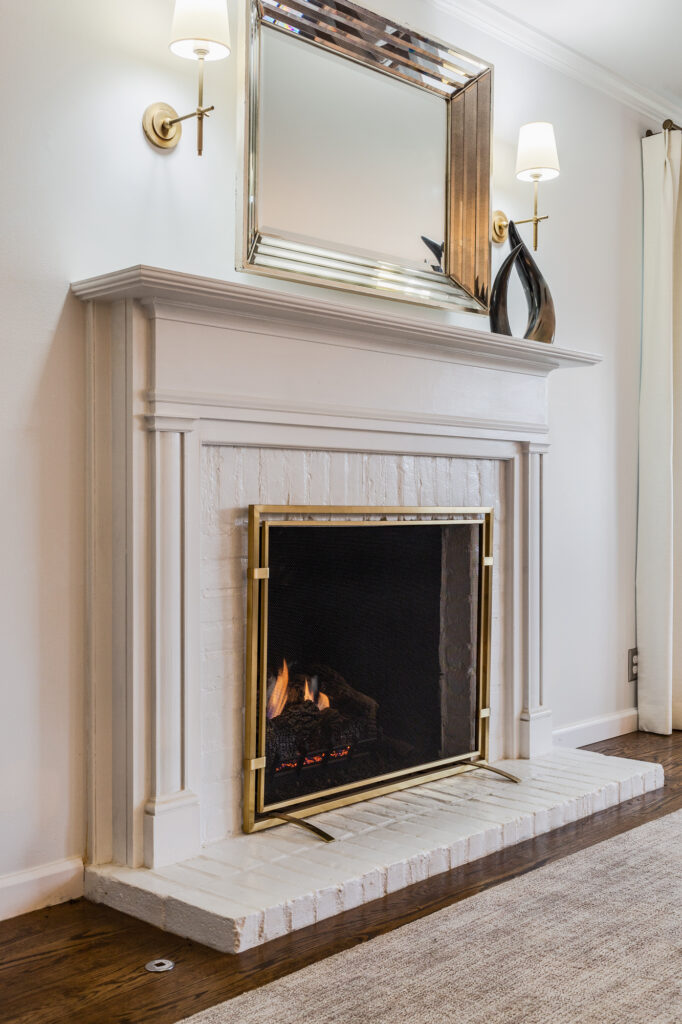 The sconces that were dropped over the fireplace are the matching versions of the dining room chandelier- the Bryant from Thomas O'Brien for Visual Comfort. They flank an antique mirror I found in Rellek years ago, while two beautiful horns perch on the mantle. The fireplace was wood burning, but had a gas line already running to it. We had the chimney(s) inspected, and installed a ventless gas insert that goes on and off at the push of a button- something I longed to have at the townhouse, and something I absolutely love having on cold mornings. The simple brass fireplace screen is from Pottery Barn.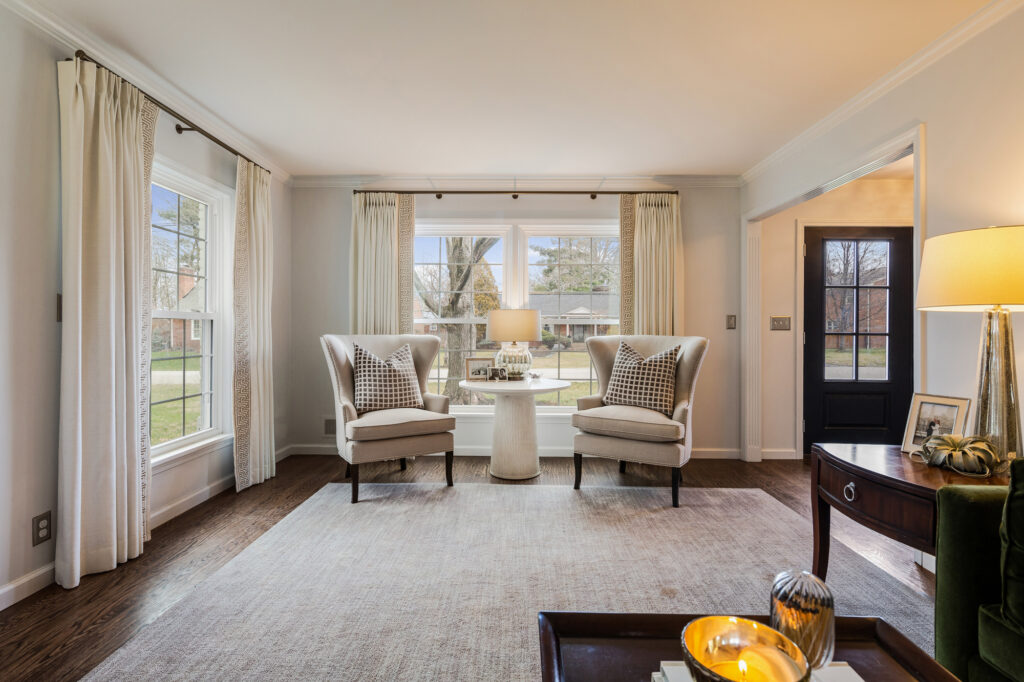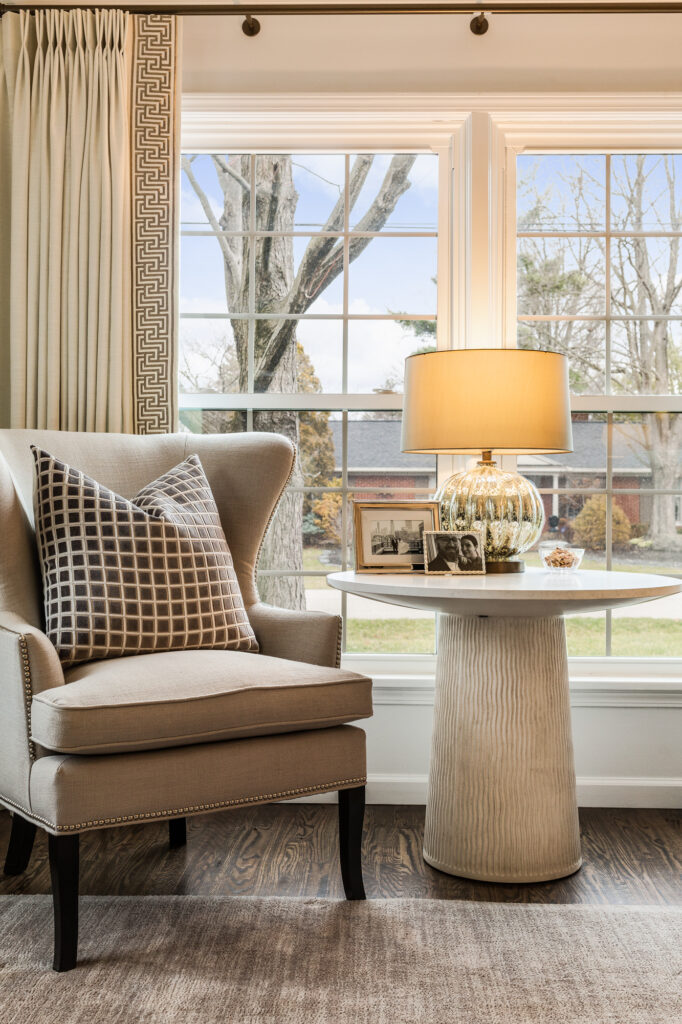 This view… My goodness. Propped against the front window, a sweet seating area is my morning view each weekend. The chairs are from Williams Sonoma Home, the table from Alice Lane Home, and the pillows are from Clare Miller Home, locally. The lamp was purchased locally at Scout years ago, and used to live on my desk. Now, she's the perfect accessory here.
This room receives a lot of attention on my Instagram, I know, but it also receives so much attention from the two of us each weekend. It's where we have our Saturday and Sunday morning coffees, read books, listen to music (there's a Sonos speaker hidden behind the piano), and sit when people are over. Never stuffy, always bright. The perfect room for living.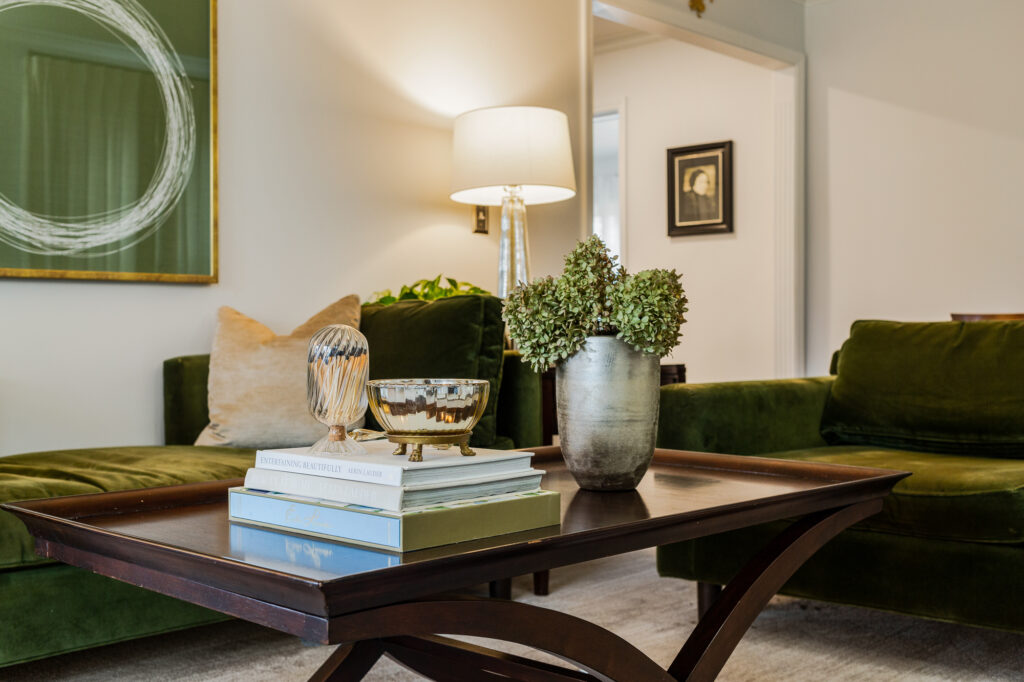 ** this post is not sponsored in any way. all thoughts and opinions are my own **
** first two photos by listing Brokerage Schuler Bauer **
** photos by Don Lehman **
** sources **
rug : Carrell Rogers Carpet One
sconces : Thomas O'Brien for Visual Comfort
table lamps : Scout
end tables, coffee table : Hekman Furniture
side table : Alice Lane Home
wing chairs : Williams-Sonoma Home
sofa, armchair : Mitchell Gold + Bob Williams
piano, mirror, side chairs : vintage
drapery, hardware : Bittner's
art : Angela Chrusciaki Blehm and Kayce Hughes
frames, fireplace screen : Pottery Barn
books : Aerin Lauder
vases : Mahonia
white box, horns, candle accessories : Scout
footed candle stand : Tuesday Made
match strike, pillows on chairs : Clare Miller Home
pillow on sofa : Pier 1
coasters, candle : Target
candy dish : Williams-Sonoma
four-leaf clovers : vintage