I have failed in the past when it came to dressing windows.
My grandmother had draperies in her den, living room, and bedroom that had to have been custom- off white linen with pinch pleats and a stationary pulley to open and close. My parents were of the 80's and 90's school of sheer panels draped over a simple rod. I was happy with the plastic Venetian blinds that came with my apartments and with the original wooden shutters that were in our first home- a Victorian in Old Louisville.
When we bought our cute little townhouse a decade ago, I zoomed to Lowes and purchased a dozen bronze-colored panels that lived in our living room, dining room, and bedroom. They were on clearance, and I think I paid something like $18 each. They stayed mounted in our home until we moved. It wasn't until early 2020 that I finally bit the bullet and spent money on window dressing- a custom roman shade went into our kitchen, and made such a world of difference.
When we moved here, to our big, grown-up house, I knew that one of the areas I wanted to focus my money on was window treatments. Seeing how much that Roman shade elevated our old kitchen and really finished the room was enough reason for me to team with Crystal Smith at Bittners once again for the draperies that have gone into our dining and formal living rooms (and our bedroom, but we aren't quite finished in there, yet).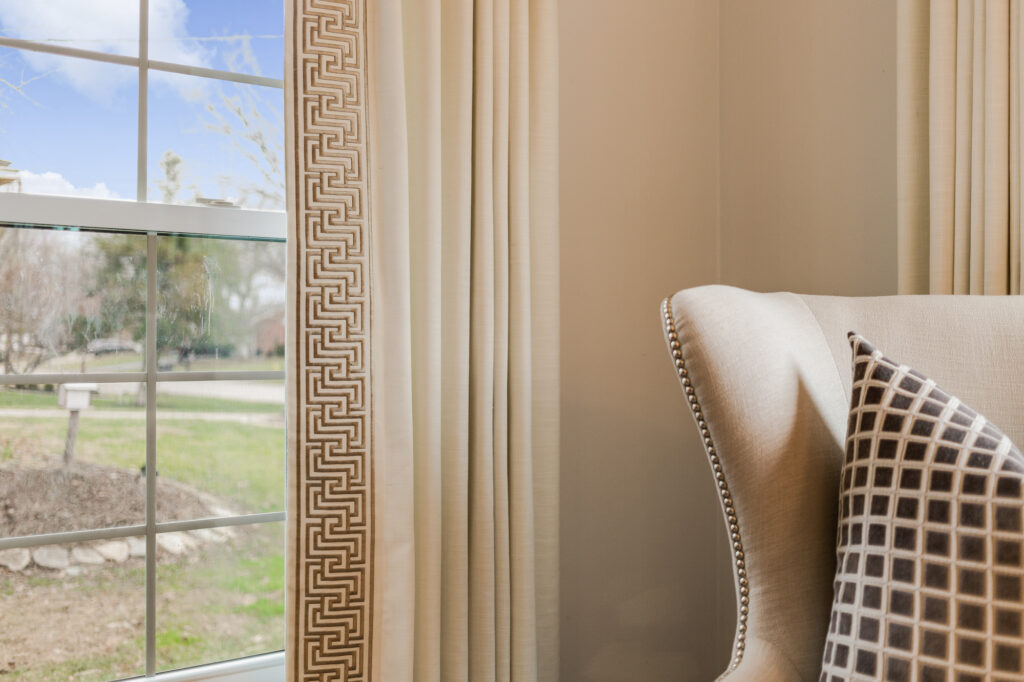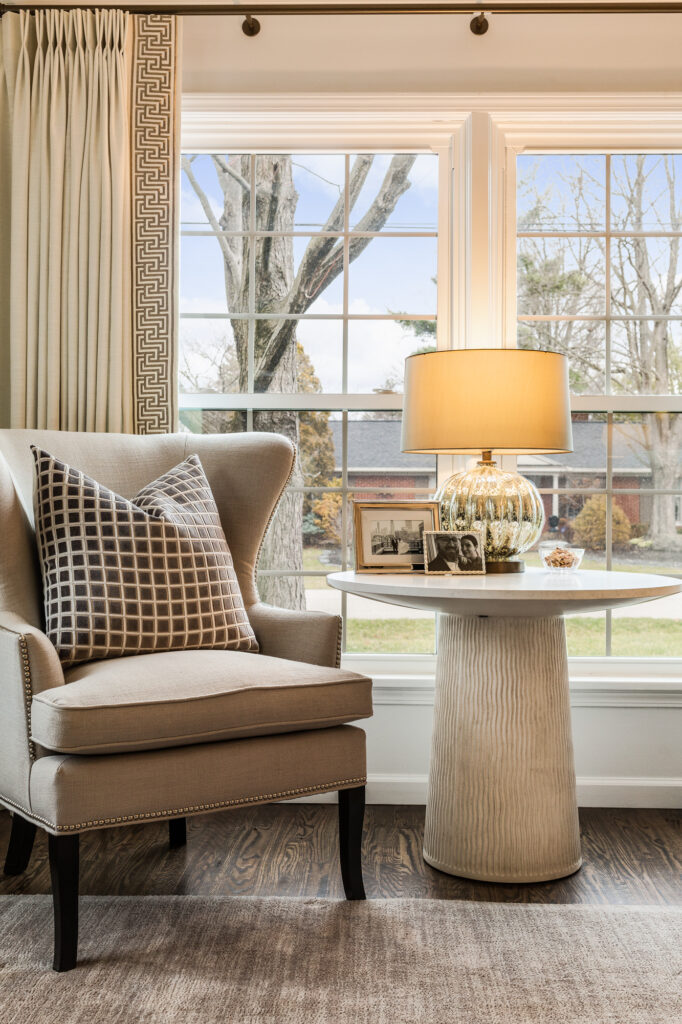 While what we've chosen for our home hasn't been cheap (partly because there was no way I was *not* having that labyrinth tape trim in the living room), it's not the cost that has made our choice in window treatments beautiful. There are a few factors that everyone needs to keep in mind, no matter their home and no matter their budget.
Tailoring: In my opinion, nothing looks sloppier than a heavy curtain that's just piled on the floor below. If you're purchasing fabric to sew your own panels, or if you found- like I did so many years ago at Lowe's- off-the-rack drapes that you just love, take the time to make sure they fit. Mount your rod, and be sure that your curtains just float above the floor (aim for 1/4″ to 1/2″ above). Hem them if you need to. I've shown far too many homes in my career that have draperies puddling onto the floor; they're always dirty and always collect dust, no matter how clean the house is.
Opacity: To sheer or not to sheer? To blackout or not to blackout? Think about the function of the room you're working on. Does it receive soft light no matter the time of day? Perhaps a sheer woven shade would offer the right amount of personality and softness. Will it ever be used for sleeping? Add a blackout lining (we have a blackout liner on the woven shades in the den, since those sofas double as two twin guest beds). If you have a sunroom overlooking a landscaped yard, perhaps sheer linen drapes swathing the room would filter the light enough to provide privacy and still let in the sun.
Hardware: Please, please, pay attention to the hardware (the rods, the rings). In most real estate transactions, these are considered a fixture of the house. Much like you'd think about spending a little more money on a stainless appliance for possible future resale, treat your window hardware the same way. I'm not suggesting you run out and find the most fancy and expensive curtain rods there are, but sleek and simple (and matching) metal, metal look, or wooden rods look 1,000% more elevated than those white metal tension rods ever will. Check Target, Home Depot, and Lowe's, as well as Wayfair and Wal-Mart for budget-friendly options, and a wide variety of sizes. Mid-range priced hardware can easily be found at Pottery Barn, West Elm, or Crate and Barrel. We want to make sure the hardware is large enough to cover all of the window casing. Speaking of which….
Hardware Placement: The higher and wider the better when it comes to a hanging treatment. Take a look at the graphic below from Boston.com. Drapery rods that go almost to the ceiling and extend out wider than your windows on either side make your room, your windows, your window treatments, and your walls look larger. Bonus- by hanging the curtains wider than the window casing, your drapes will rest outside or at the edge of the window glass, allowing more natural light to flow in. Both our living room and dining room drapes are mounted 14″ outside of the window casing, and 6″ above the top of the windows.
Layering: A layered look is a luxurious one. Picture a man in a button up shirt and trousers. Now picture the same man with the same shirt and trousers, but add a tie. And a jacket. Neater, yes? More tailored. More professional. It's a richer look. Your windows work the same way. We're adding natural fiber woven shades on all of our windows, beneath the draperies. It's a bonus detail that- while not necessary- can elevate a space.
Detail: Sometimes, you need to add a little oomph. In our guest room, plain white linen panels from Target (that were on clearance!!) got a little kick from black pom-pom trim found on etsy (and fabric glue and elbow grease). A weekend of gluing the trim added just enough personality to inexpensive linen to make things look a little fancier than they actually are. I love the simple tape trims in the dining room and living room, while the plan for our office involves a double pinch pleated header with pleat knots and a tassel trim as to not be overshadowed by the Farrow and Ball Lotus wallpaper. Match your detail to your room style.
Are your eyes crossed?
Take your time. Especially if you're spending money for custom window treatments or hardware, take it slow. Most fabric window treatments can last 10 years or more if they're routinely cared for (my grandmother's were installed in her house in the late 1970's and were still there when I moved in in 2007, and still in fabulous shape. She had them professionally cleaned every 5 years or so), so while they may not be a financial investment, they are a purchase that can last decades, so a quick decision may not be the best one. Find what you love, even if it takes a minute to figure out.
And, along that line, if you can't figure it out, don't be afraid to sit down with a professional. While Bittners was the best choice for us window-wise, many big box hardware stores have pros in store for assistance with design. Even grabbing coffee with a stylish friend and picking their brain may be exactly what you need to decide on what works best for you and what works best for your home.
** this post is not sponsored in any way. all thoughts and opinions are my own **
** photos by Don Lehman **