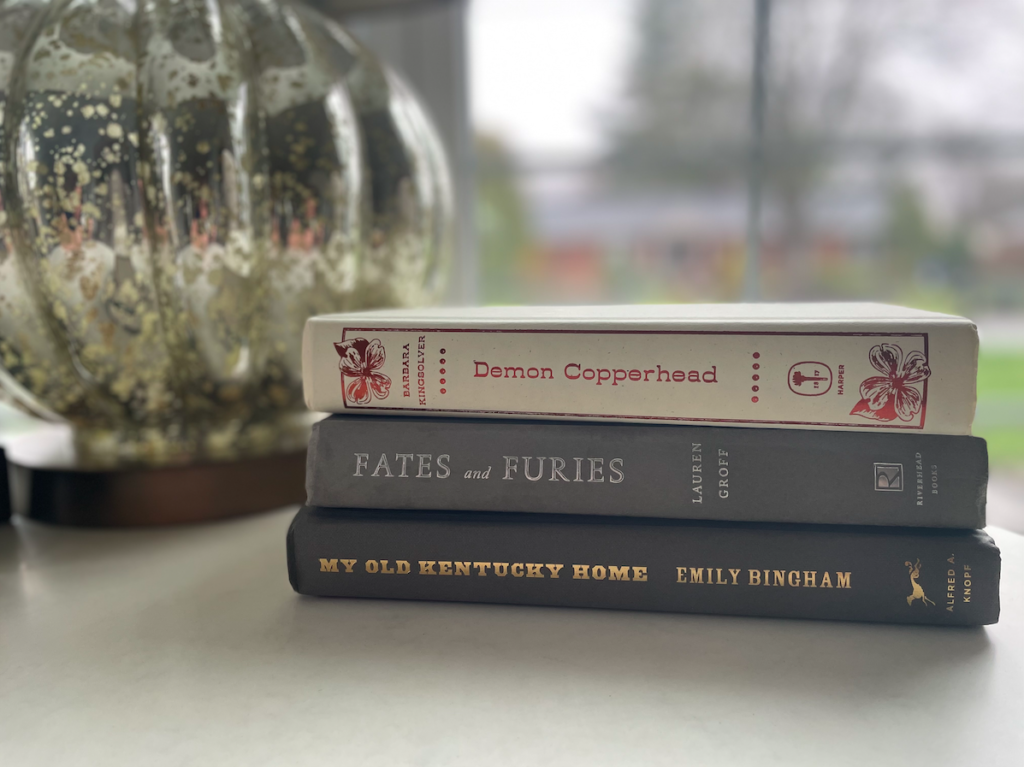 ** Love + Work: How to Find What You Love, Love What You Do, and Do It for the Rest of Your Life by Marcus Buckingham: This is one I read at the tail end of our vacation, and can't really remember. There were a couple of business books like this last year. I'll re-read soon, promise.
** It by Stephen King: I won't review again. You know by now that I read it every October and love it more every time.
** Shakespeare for Squirrels by Christopher Moore: The final (for now) book in the Fool series. A Midsummer Night's Dream as imagined by Moore. Fool and his fool, Drool, find themselves in the middle of a murder mystery, and in the middle of troupes of squirrels, fairies, and goblins. One of the most hilarious of his.
** Demon Copperhead by Barbara Kingsolver: An Appalachian take on David Copperfield, the story of a young man, Demon, who is happy in his life with his mom, an addict. When her new boyfriend enters the picture, life changes, and Demon finds himself looking for home elsewhere. There's a scene involving a jar full of change that absolutely ripped my heart out, and I found this one a little hard to read. Living in Kentucky, growing up in a rural area, I felt like I knew a lot of the characters in this book, and I remember some of them having similar fates as some of the folks here. Worth reading, but not my favorite of Kingsolver's.
** Fates and Furies by Lauren Groff: A re-read, reviewed in full here. A note on this one, though: I'm pretty sure it's in my top 2% of books, ever.
** Anna: The Biography by Amy Odell: I was surprised at this one. Almost every girl knows who Anna Wintour is, and almost every girl who's watched The Devil Wears Prada has a certain idea of how the woman works. Her biography makes Anna out to be incredibly intelligent, an emotional human, and driven to be the best in her field. All things I hope to have said about me one day. Her personality is rare, for sure, but her climb to her position seems to have been calculated in the best ways.
** My Old Kentucky Home: The Astonishing Life and Reckoning of an Iconic American Song by Emily Bingham: Beautifully researched, and thoughtfully told, Bingham directs us along the history of Stephen Foster's most remembered song. It's a little difficult to think of the racial history laced in our state song, especially when it's sung so emotionally on Derby Day, but her way of writing- and her perspective- urges a respecting the past while moving forward.
** The Great Gatsby by F. Scott Fitzgerald: As many interpretations of this book as there are in film, I always have Baz Luhrmann's version in my head while reading. I love the mystery- still- that's behind the character of Jay Gatsby, and feel like the story transcends a time period. No wonder it's a classic.
** The Heart's Invisible Furies by John Boyne: Holy. Cow. This may be one of the best books I've ever read. It was thrust into my hands (quite literally) by a girlfriend with the phrase "You need to read this." We follow Cyril Avery as he navigates his world in Ireland after being adopted by a rather interesting couple. His life leads him so, so close to meeting those who could answer so many questions for him, and he just doesn't know it. It's emotional. I laughed at times, and sobbed (full-on ugly cried) at others. If you're a fan of historical fiction, LGBTQ+ literature, family trauma, or Ireland, read it.
** Entertaining is Fun: How to be a Popular Hostess by Dorothy Draper: Draper was quite the character. I pulled this one off the shelf when I started thinking about Derby season get-togethers. Plenty of the scenarios and advice are a little antiquated and high-brow (making sure there are adequate ashtrays on every surface, and inviting friends to the weekend house in the country), but the overall message of every chapter is to have fun when you entertain. It's cheeky and it's fun for anyone who loves to have folks over.
** The Virgin Suicides by Jeffrey Eugenides: Another frequent re-read. Eugenides is such a beautiful writer, and The Virgin Suicides is no exception. A story of a family of 5 girls over a traumatic and closed year of life, as told by the boys in their neighborhood who loved them from afar, and had so many questions about the life they led.
** this post is not sponsored in any way. all thoughts and opinions are my own **