I've spoken before about the home I grew up in. My grandparents' house was small but well-appointed, with the "formal" living room acting as the space that we used when company came over, and where we often sat for holidays or quiet (read: tv-less) weekends and canasta nights. The den was where the comfy furniture lived, and where my grandpa could often be found dozing in his recliner. It's where the tv was, and where we watched Jeopardy every night while munching on popcorn.
Here in the new house (how long can I refer to it as new?), we knew we wanted the den- a dark, faux-wood paneled room off of the kitchen- to serve the same, comfy, decorated-but-not-stuffy purpose. I wanted to be able to eat in here, to put my feet on the couch, to stretch out and feel comfortable while still having a room that paraded as a little elevated.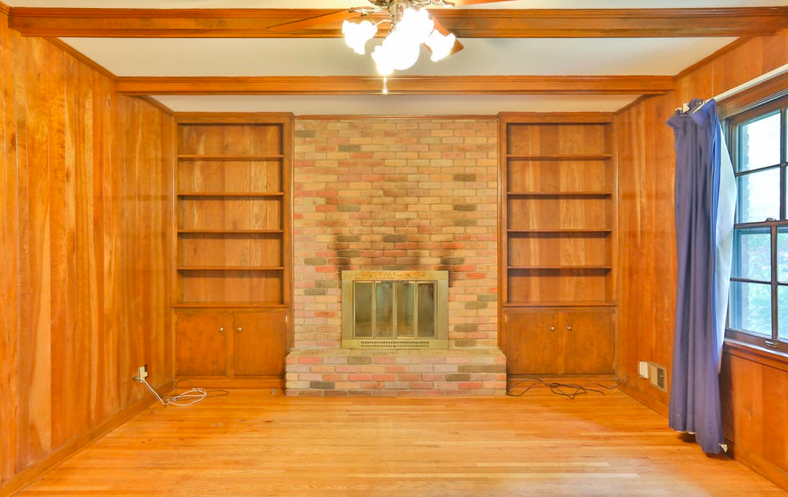 And you totally see all that in the photo above, don't you? Just like the rest of our house, this space was well-constructed, but not exactly "pretty." It had potential, though, and is a lot larger than she appeared in the listing photo, at 14′ wide and almost 20′ deep from fireplace to powder room/kitchen.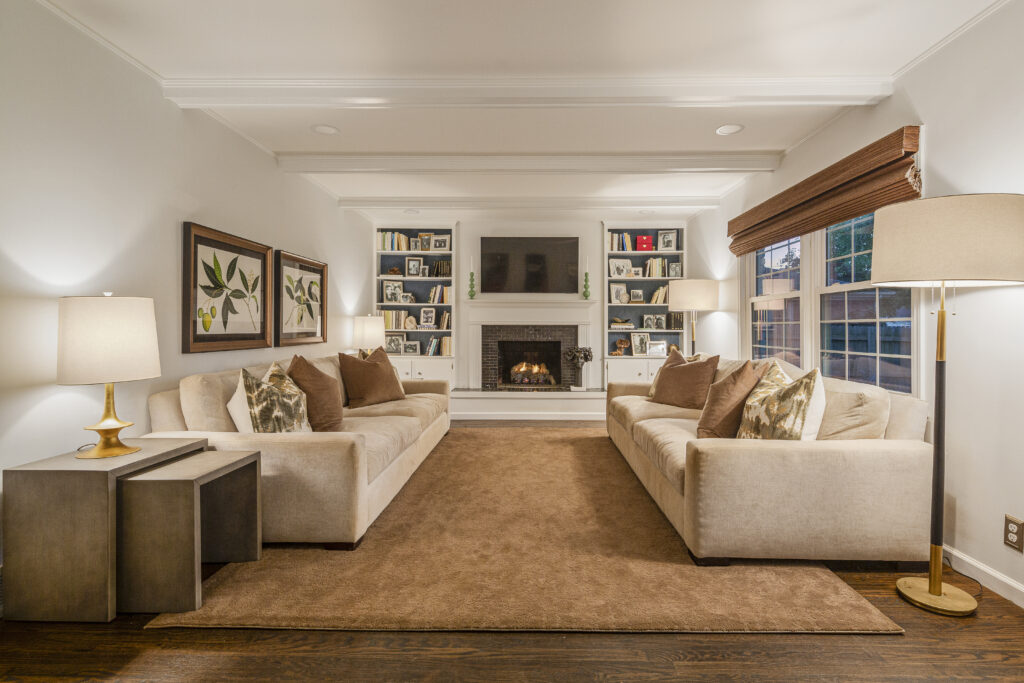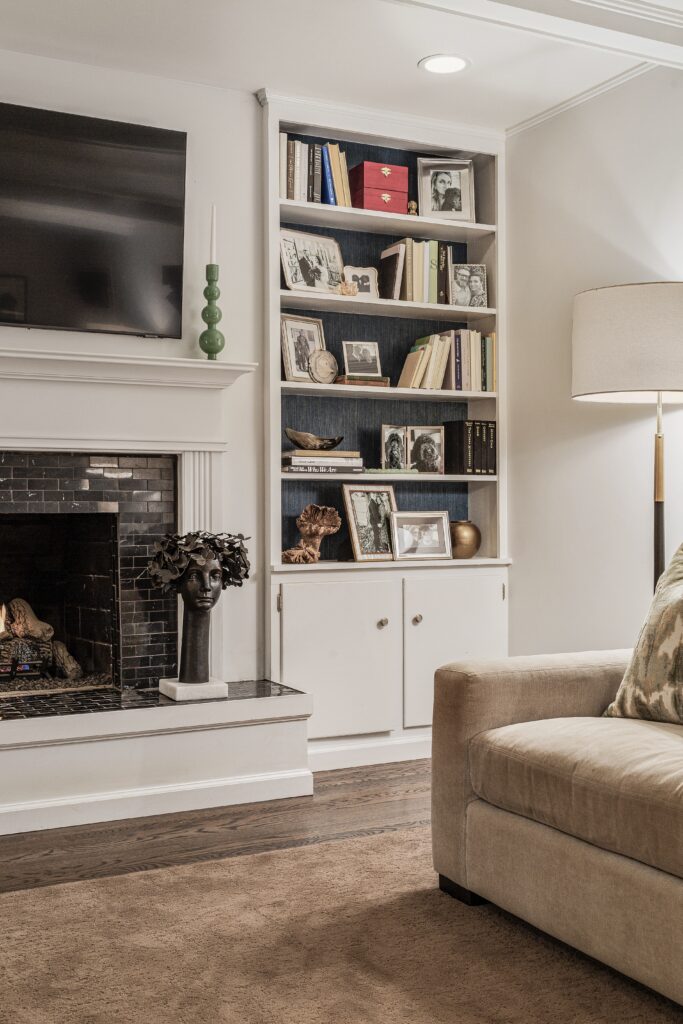 While this room was in no way the hardest to tackle (remember the kitchen with it's under-joist plumbing situation?), I think it may have received the biggest facelift. Any surface in here that had wood paneling was swapped for drywall, and ever surface was covered in paint. A lot of paint. Do you have any idea how many coats it takes to cover a highly varnished wood beam?
The floors in here were, fortunately, already hardwood. It was these floors that we matched throughout the rest of this level. In here, they just got a good sanding and stain. We framed and drywalled over the brick fireplace front, added trim, a mantle (found for cheap on Overstock), and sleek black tile. The same ventless gas fireplace insert went in here that went in the living room. The walls, ceiling, and trim were painted in Benjamin Moore's White Dove and a gorgeous blue grasscloth from Serena & Lily went on the back of the bookcases.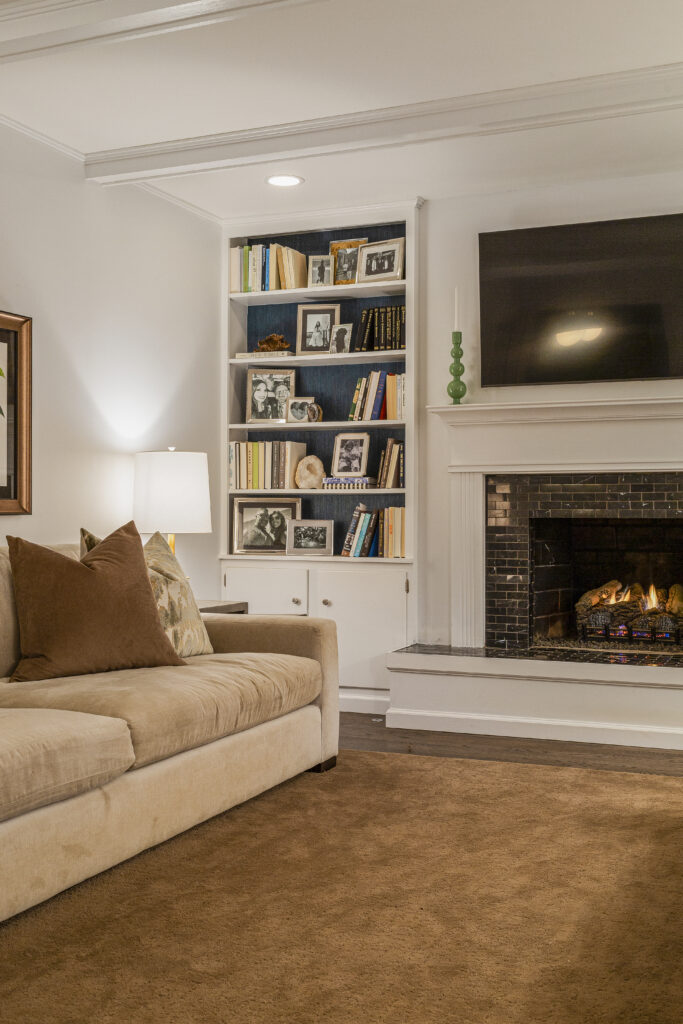 Almost as soon as we closed on this house, I headed to Arhaus to buy these sofas. They're the Remington two over two sofa in a 108″ length, and they're as comfortable as they are enormous! The throw pillows were all found locally at Clare Miller Home, while the silver frames, end tables, and floor lamps are from Pottery Barn. The rug is custom from Carrell Rogers Carpet One, and the table lamps are Aerin for Circa Lighting. The custom shades on the window and the new rear door are from Louisville Blinds and Windows.
The funky candleholders are from Clare Miller Home, and the art over the sofa was from Paloma & Co., with custom framing done locally. The accessories sprinkled throughout the bookshelves are a mix of my grandpa's collected agates and stone and finds from Clare Miller, Scout, and Mahonia. The wood flower growths are from Bloomist.com, and are a natural tree growth called tree ears. The "Butterflies for Brains" sculpture was sourced locally.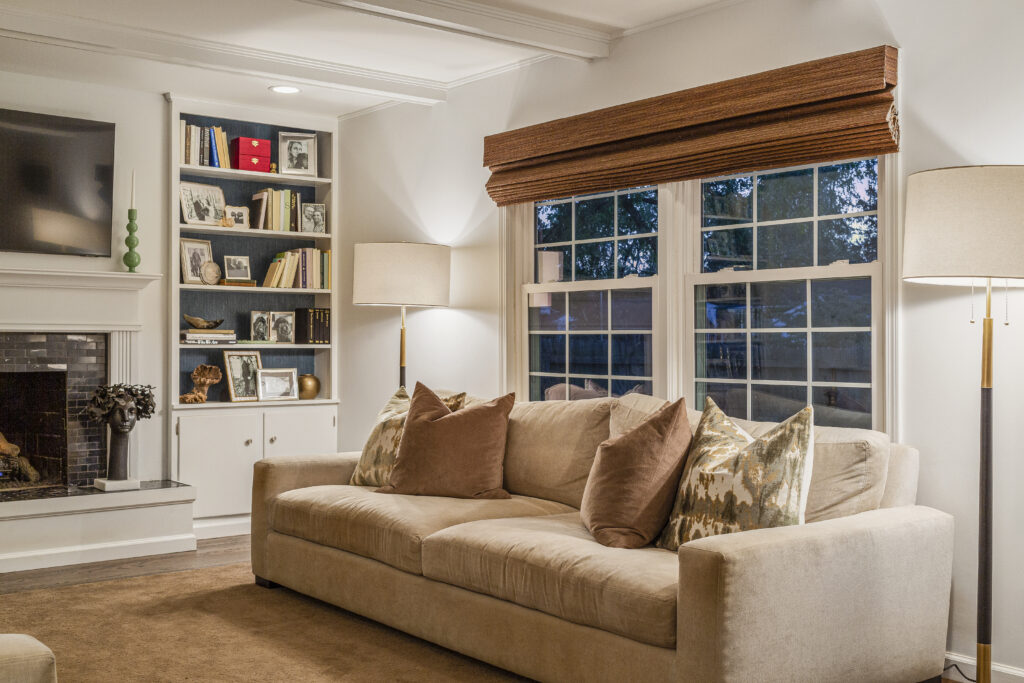 While the only time this room will be this tidy (because the pillow are usually stacked on one end of the couches or in the floor, and there's a very comfy Star Wars blanket that I'm usually under while binge-watching Frasier) is for these photos, she's definitely proven comfortable enough for us over the last few years, and now, accessorized in ways that work best for us, it feels like there's one more room completed and checked off of the list!
** this post is not sponsored in any way. all thoughts and opinions are my own **
** first photo by listing Brokerage, Schuler Bauer **
** photos by Don Lehman **
** sources **
rug : Carrell Rogers Carpet One
table lamps : Aerin for Circa Lighting
floor lamps : Pottery Barn
sofas : Arhaus
pillows : Clare Miller Home
wallpaper : Serena & Lily
window shades : Louisville Blinds and Drapery
candleholders : Clare Miller Home
accessories : Scout, Mahonia, Clare Miller Home
end tables : Pottery Barn
art : Paloma & Co.
framing : custom
silver frames : Pottery Barn
Butterflies for Brains : Palazzina Interiors
books : assorted