When we first stumbled upon our house, she wasn't exactly the ugliest house on the block, but you could tell she'd been through it. There was a Sycamore in the front yard 4 feet through the middle if it was an inch. It's roots had jacked up pieces of the concrete driveway. The front doors and garage door had these raised panel patterns that looked a little dated, and the windows were split into 4-pane panels, just looking a little odd…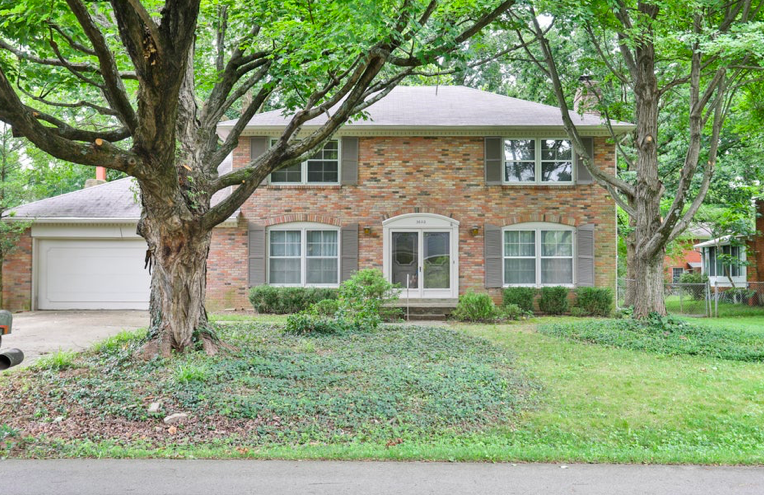 But- she was beautiful. She had potential. I had a friend mock up the exterior with white painted brick, black doors and shutters, and fresh landscaping. I found, fell in love with, and immediately purchased giant blue and white Chinoiserie planters for the front porch, even before our offer to purchase was accepted.
October of 2020, we brought out the sledgehammers inside, but outside, new windows, new doors, new shutters, new landscaping, and a coat (or 3) of paint went on, while that sycamore came down over a two-day period. As it turns out, a little bit of work went a long, long way.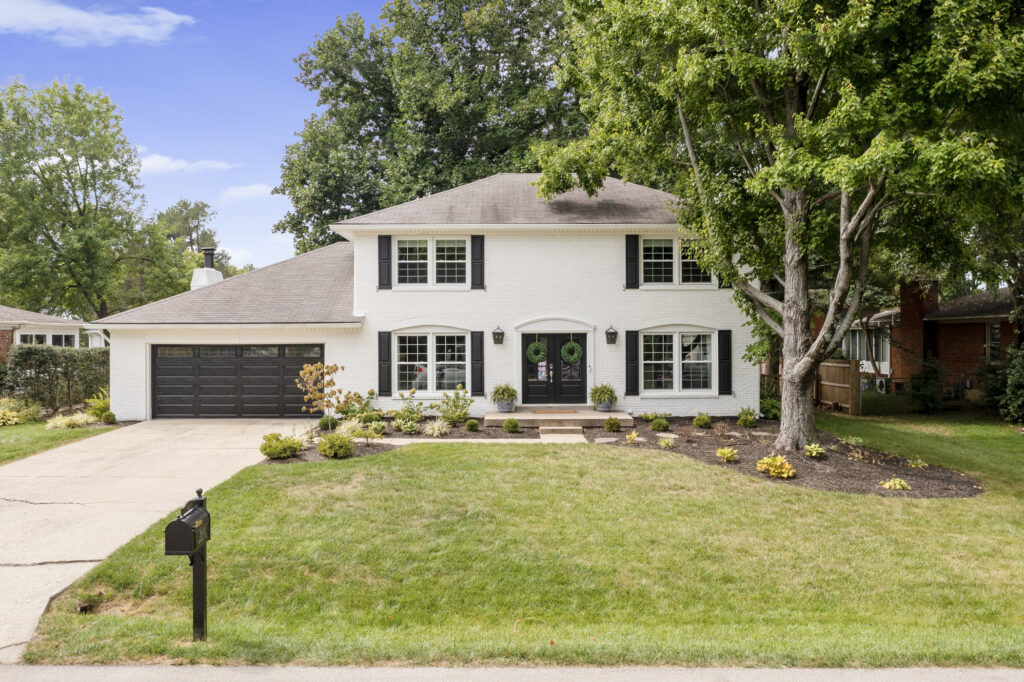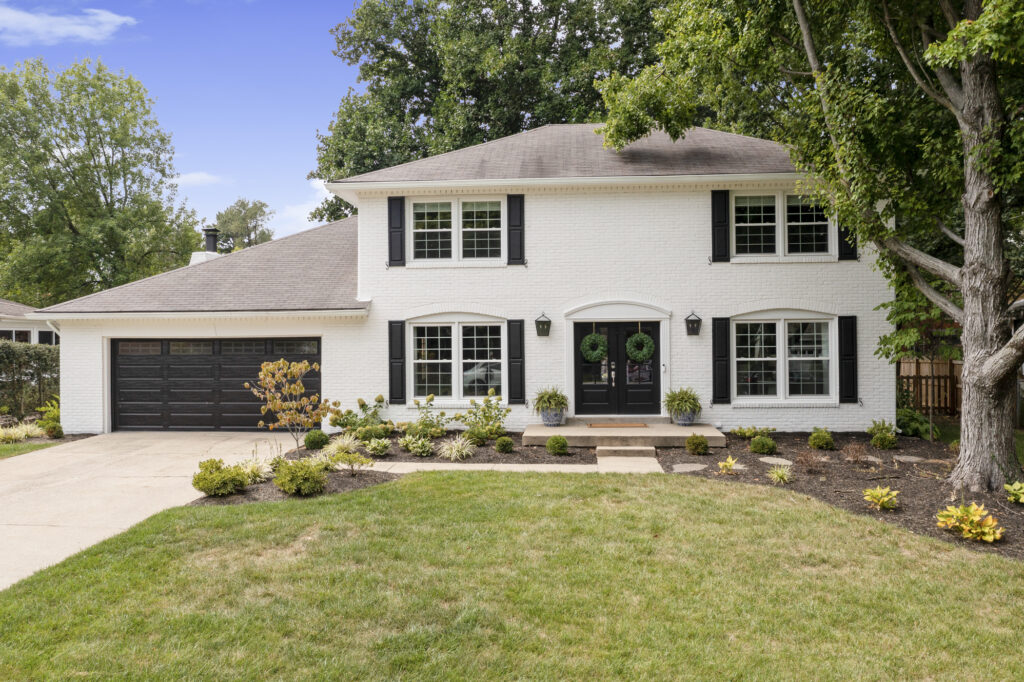 Our first big tasks were windows, doors, and landscaping. The windows and doors had to be done pretty much immediately so that we could start tackling drywall and paint inside. While the windows were an easy job, the doors were a nightmare that we're still working through with Lowe's (but that's a story for another day…).
As for the landscaping, dear lord, that tree. It was a whopper. We're so glad to have a partnership with Michael Dubree at New Leaf Landscaping. He and his crew spent two days bringing that sucker down and grinding out an incredible amount of roots. They also pulled out the old shrubbery and two smaller trees to the left of the garage that aren't pictured in the first photo. Then, Jimmy Huslmeyer and his guys from Landscape Jimmy took over. They tilled up the entire front yard, created newly defined mulch beds, laid sod, brought in those little lime hydrangea, white azaleas, boxwoods…. We've had so many neighbors stop and tell us how much cleaner things look, and what a difference the landscaping has made.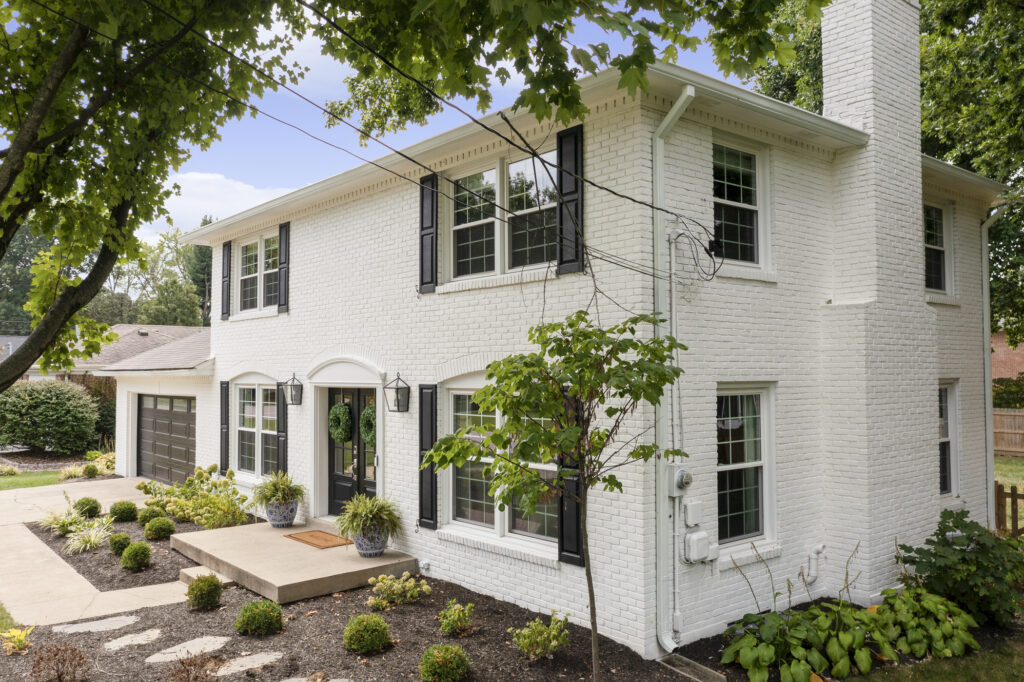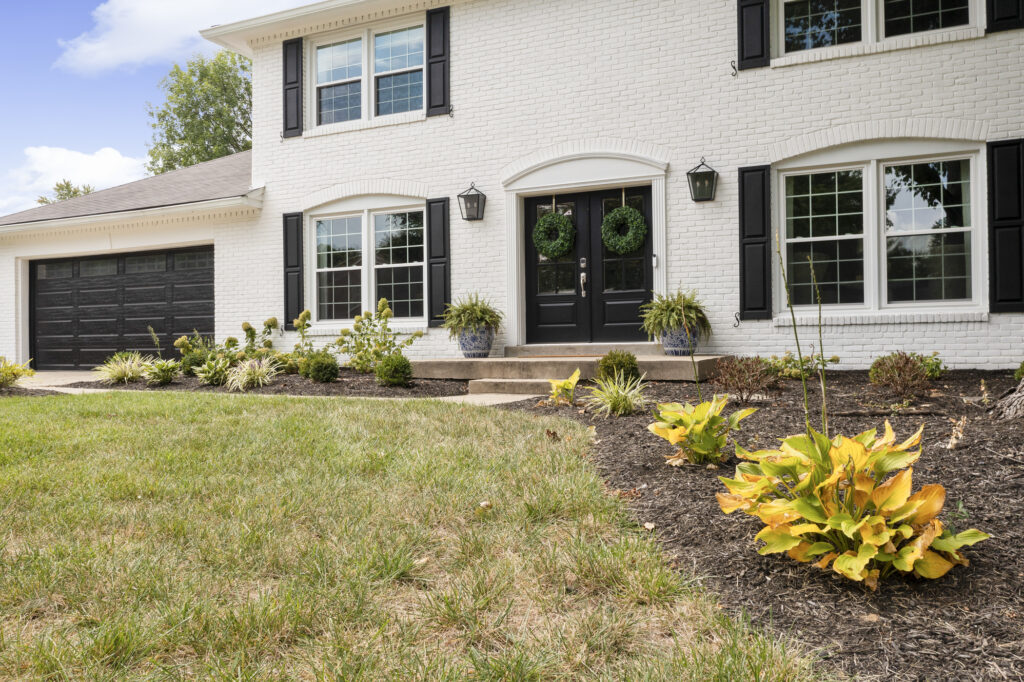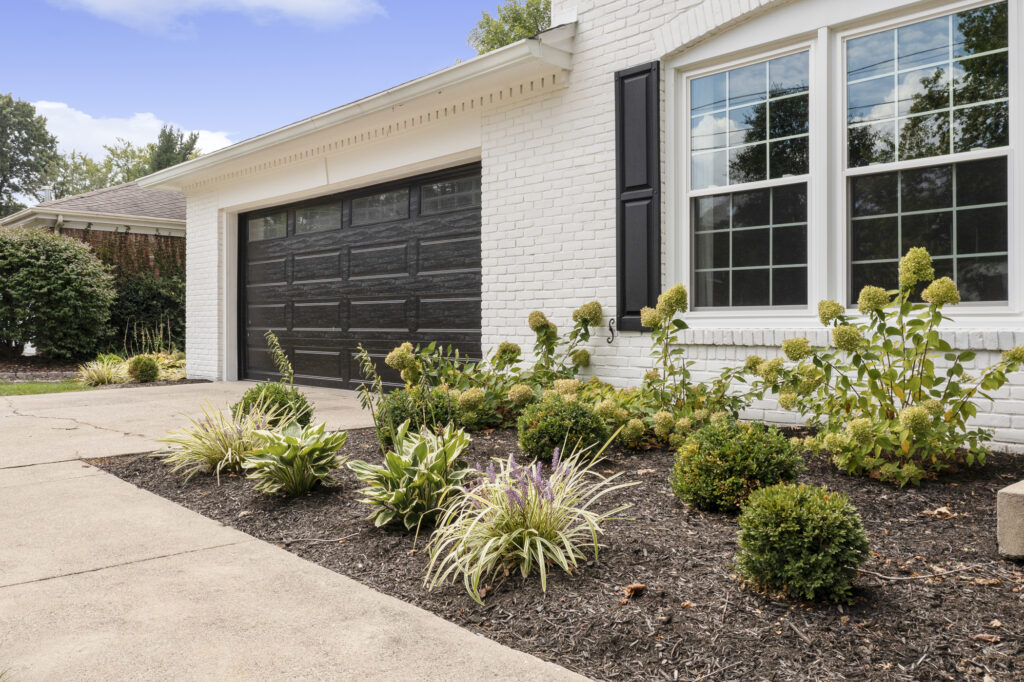 It look a while (like- over a year) to find a painter that wanted to tackle the exterior without charging a fortune, and quite frankly, I wasn't up to tackling the job myself. Finally, when a neighbor had their exterior repainted, we grabbed the name of their painter, got a quote, and immediately gave him a deposit. Within a few weeks, our brick and trim had been covered in Benjamin Moore's White Dove, and it was then that it seemed the house really came to life. She brightened up.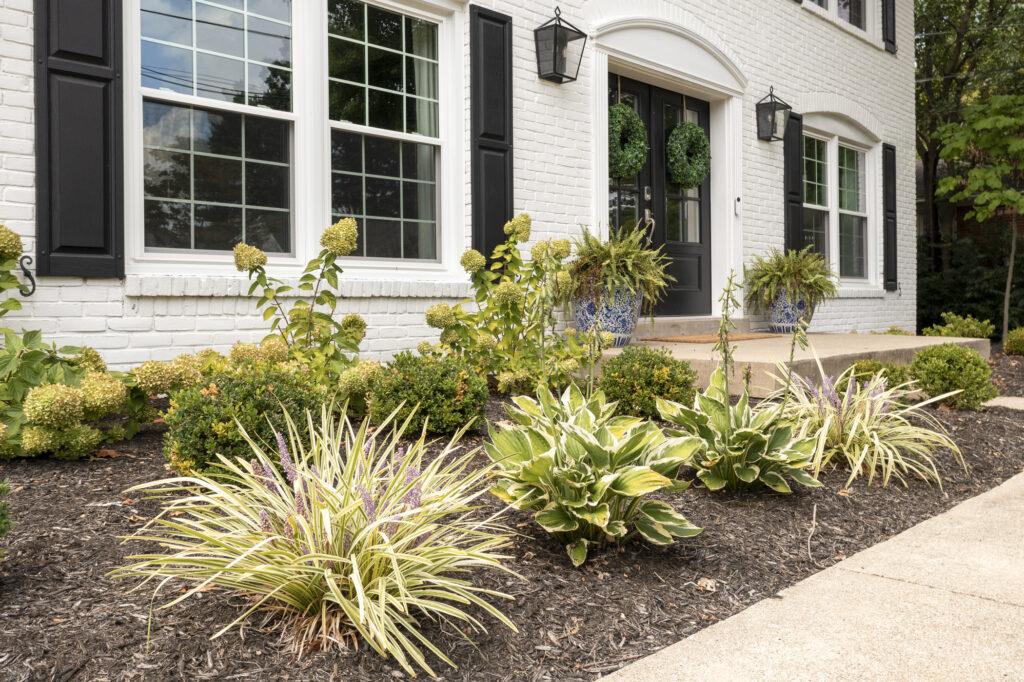 You may notice that this post is titled "Part 1." We still have another couple of projects to go before the front exterior is really "done," and one of those will take place over the weekend of November 4th. The other is slated for Spring, and I'm hoping that at that point, we can take a huge, deep breath and take a break from outside for a bit, but I'm absolutely looking forward to being able to show you what this place looks like finished. Until then…
** this post is not sponsored in any way. all thoughts and opinions are my own **
** first photo by listing Brokerage Schuler Bauer **
** photos by Don Lehman **
** sources **
paint: Benjamin Moore White Dove
shutters, front doors: Lowe's
garage door: Cunningham's Overhead Door
lighting: lamps plus
mailbox: Brownsboro Hardware
windows: Benthall Brothers
welcome mat, wreath hangers: Target
planters: Williams Sonoma Home
wreaths: Pottery Barn