It's no secret that the man and I are in love with Palm Springs. Since we began vacationing there several years ago, our annual September jaunt is how we keep track of the years… Not our anniversary, not NYE, but the view of the mountains and dinner at Sandfish. We always come home to the Kentucky humidity (which is somehow worse than the desert heat), and begin dreaming of the next year.
When we finally got halfway settled in here at the new house, we had so much more room to decorate and design, and we found ourselves injecting Palm Springs in tiny doses. Once we realized it was happening, we continued on, and now, almost every room has a touch of our favorite place. Suddenly- and finally- we are finding ourselves smiling at art, closing our eyes and remembering scent, and almost feeling the sunshine of Southern California.
Looking for a way to bring your favorite place home with you? Here are some ideas…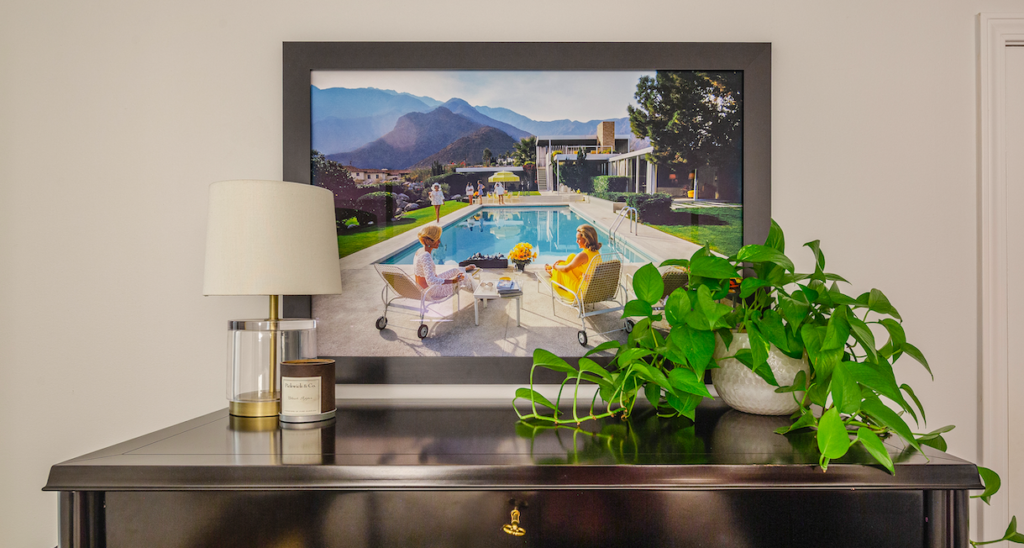 Art: I'm not sure there's a more iconic photo of Palm Springs than Slim Aarons' Poolside Gossip. Shot at the Kaufmann Desert House (ie; our new home the minute we ever win the lottery…), the bright yellow flowers, the midriff-baring ensembles, and that instantly recognizable Richard Neutra architecture harken the mid-century vibe that is this city we love so much. And those mountains… Lord. They make me cry they're so beautiful. This print, framed and at home above the secretary in our guest room, makes me smile every time I walk in, and my mom-in-law, who spent the last few weeks with us told us that waking up to it was stunning. Any sort of art that reminds you of your spot should be in your house. Whether you find a photo like this one that captures all that your favorite place is, or if you fall for a piece done by a local artist, if it makes you happy, and reminds you of a place that means so much, bring it home.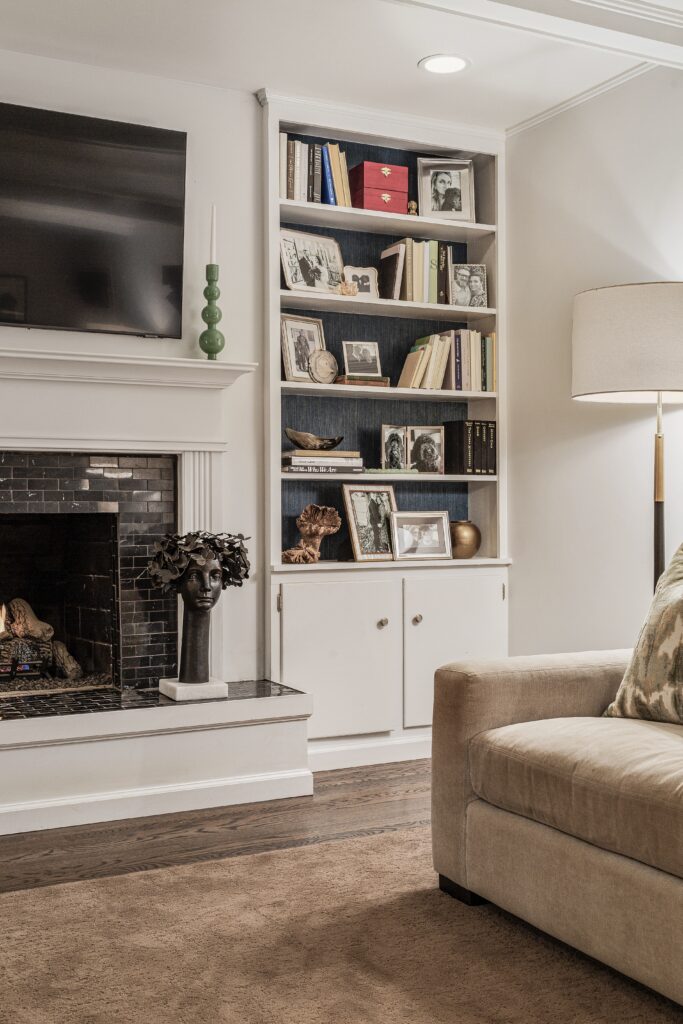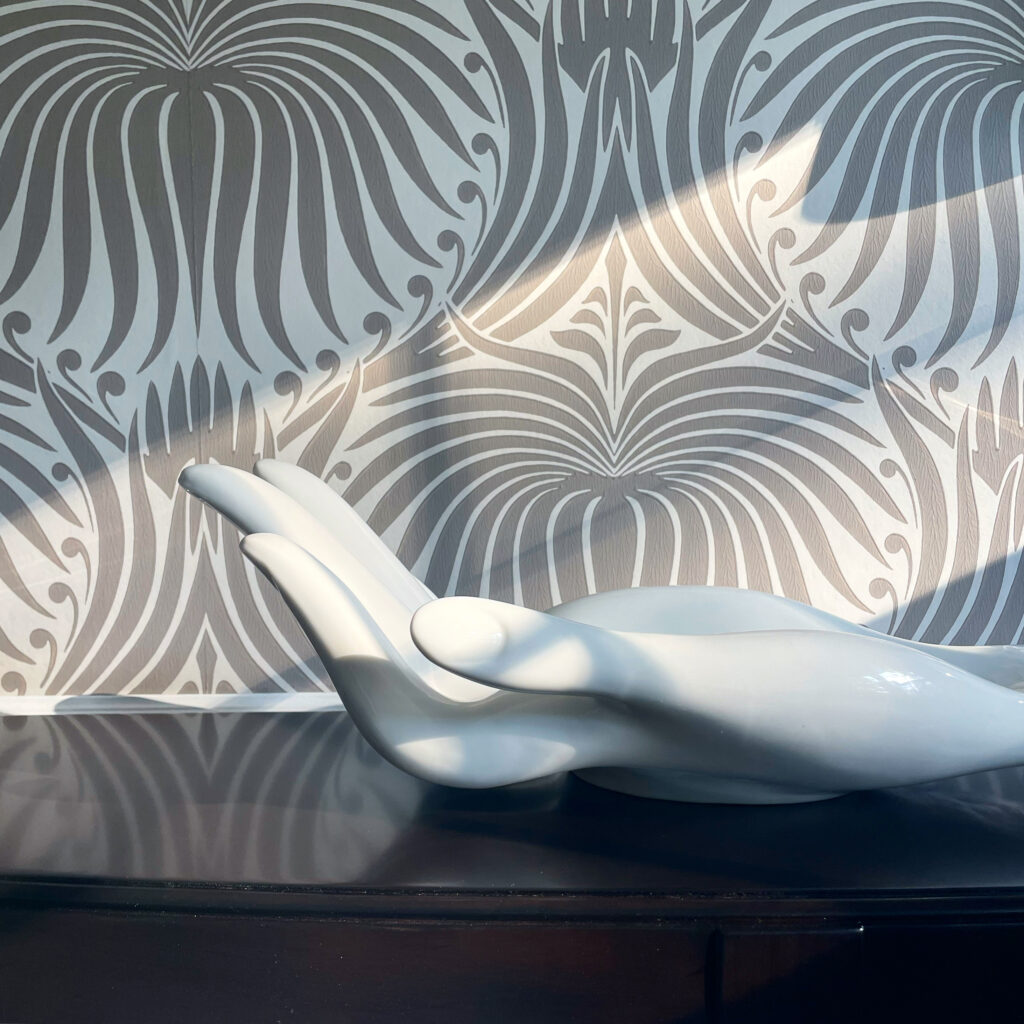 Decor: In our den (which you'll see more of next week), we recently amped things up a bit with a blue grasscloth from Serena and Lily on the back of our bookcases. Paired with these jazzy seafoam-colored candleholders, the color-on color vibe makes me think of the bright clothing and poppy front door colors in my favorite desert city. In my soon-to-be-finished office, a hand bowl from Jonathan Adler reminds me on the daily of the Adler-designed Parker Palm Springs, where we always stay. When decorating, think of what draws you to your favorite spot. Is it the sharp lines and steel buildings of New York? Deep blues of the Agean sea? While little reminders in our decor don't have to be literal, small touches here and there (like honed concrete countertops for the city lovers) can make a world of difference.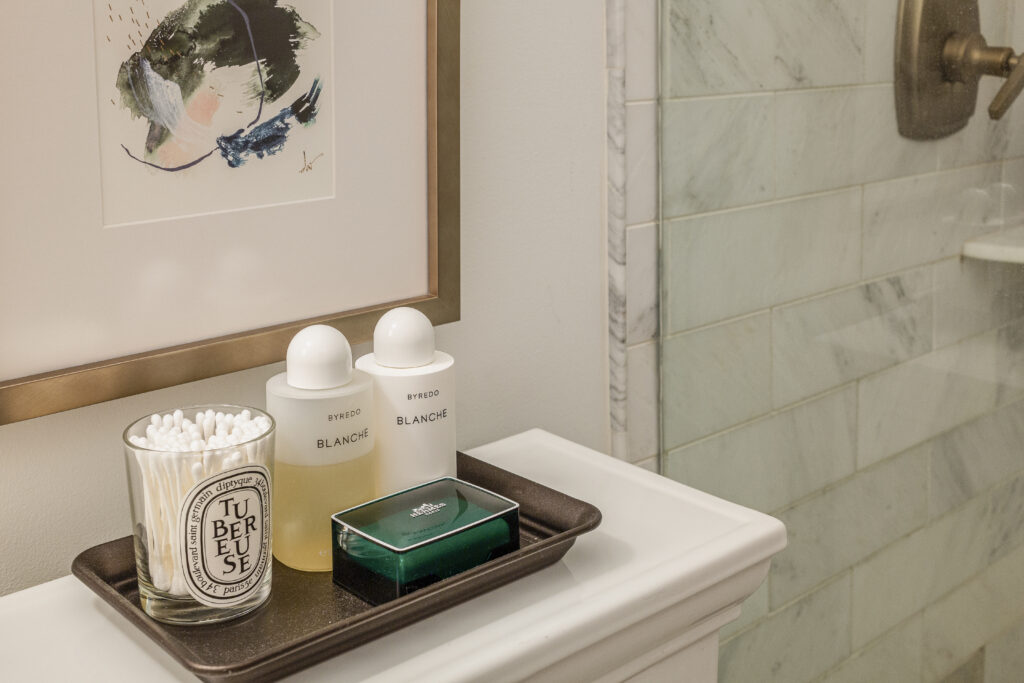 Scent: Close your eyes. Think of your favorite place. What smell do you think of? The first time we stayed at the Parker, I walked into the bathroom and almost fell over when I saw Hermes eau d'Orange Verte soap in the bathroom. I can still remember that first time I stepped into the shower and that smell surrounded me. We decided then and there that there would always be the same Hermes soap dish and bar in our bathrooms. Are there occasions that I open the dish just to get a whiff? Absolutely. Whether there's a soap, a perfume, or a candle whose scent takes you to your happy place, make sure it's somewhere in your home.
** this post is not sponsored in any way. all thoughts and opinions are my own **
** photos my Don Lehman **